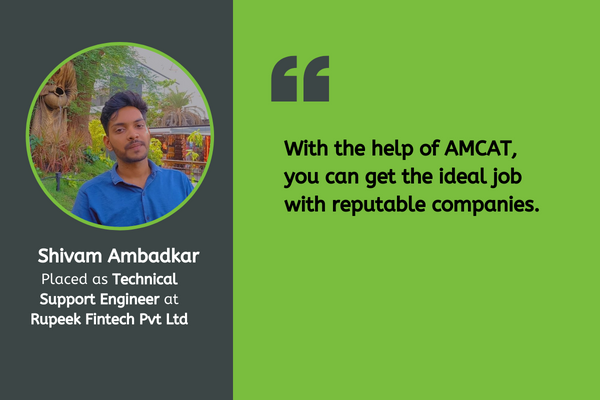 One of my best career choices, particularly in terms of my professional career, was enrolling for AMCAT. Since everything went so smoothly and successfully, I was able to get a brilliant job to kickstart my career as a fresher.
Tell us about your job role and the company where you got placed?
"I got placed in Rupeek Fintech Pvt Ltd as a Technical Support Engineer, and I was placed through AMCAT", told Shivam.
What pulled you to AMCAT above other possible options?
Shivam explained that he chose AMCAT because of the big brands, higher salaries, suitable job profiles, and convenient job locations.
Register for AMCAT | India's Leading Fresher's Assessment And Job Site (myamcat.com)
How did AMCAT help you in getting this job?
Shivam said, "I always used to keep on getting email suggestions from AMCAT, so I had applied for jobs which are relevant for my skills."
While looking for a job, what all difficulties did you face? Please elaborate.
"While looking for a job on AMCAT, I found out that you need to be eligible and you need to wait for better opportunities", told Shivam.
What role did the AMCAT feedback report play in the process?
"AMCAT Feedback Report helped me in knowing in which areas I am weak. Also, where I can be confident."
Would you recommend AMCAT to others? Also, can you mention 3 main points that you liked about AMCAT?
"Of course, I will recommend AMCAT to others.
The things which I liked about AMCAT are:
Relevant job suggestions according to our eligibility and percentage criteria.
Resume Guidance
Product based companies", concluded Shivam.
Please feel free to contact us if you have any questions.
We Wish Nothing But The Best For You!