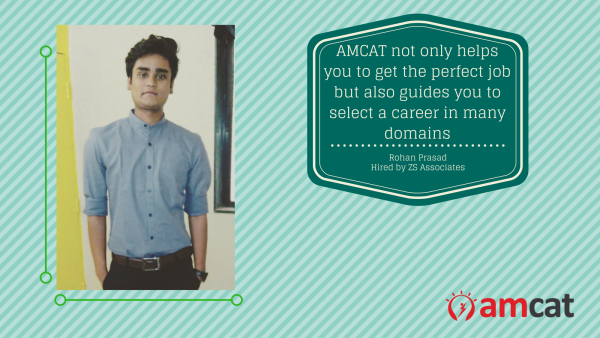 MyAMCAT Blog brings to you a successful career journey of a BCA graduate, Rohan Prasad who had a triumphant experience with the AMCAT. Rohan believes in self-motivation and is an extrovert who is fond of meeting new people and exploring new places. Let us peruse through this techno freak's success.
This Is How The AMCAT Helped
Q. While looking for a job, did you face any difficulties? If yes, which ones. And why did you opt for the AMCAT?
Having a delightful journey to find a job, Rohan says, "The AMCAT arranges aptitude exams for many companies, which I had gone through during my campus drives".
It helped me a lot as I could crack the written test for many companies
Q. How was the AMCAT experience?
Rohan's extensive preparation for the test helped him score well. He says, "It was an easy exam. Anyone who has basics of the respective subjects can score well. So it's good to have your basics clear".
It will be fruitful if you have your basics clear
Q. When did you get your first interview call? How many did you receive?
Being joyful about the results and opportunities the AMCAT brought for Rohan, he gladly mentions that he got the 1st call after 1 month of AMCAT.
Overall I got a lot number of calls and still receiving
Q. How was the interview process at the company? What helped you through it?
"I got selected in ZS ASSOCIATES. They have a tough selection process but I managed to crack it. I got help from Glassdoor, YouTube and other websites".
Q. Would you recommend the AMCAT to others? If yes, Why?
"Yes, I would surely recommend the AMCAT to everyone if they are seeking jobs in food companies. It not only helps you to get the perfect job but also guides you to select a career in many domains (if anybody is not sure about what career line they should select). It also gives you certificates if you score well, which will separate you from any other ordinary candidate".
Q. In the end, do you have any tips that can help other job seekers in getting a good job?
Rohan was well versed with the syllabus and the test format. He suggests, "just go through the syllabus, study the basics of the respective subjects, take help of Google and other aptitude sites to practice before the test".
Inspired much? Tell us your job search experience. For more updates on the AMCAT, success tips and employability news, stay tuned.