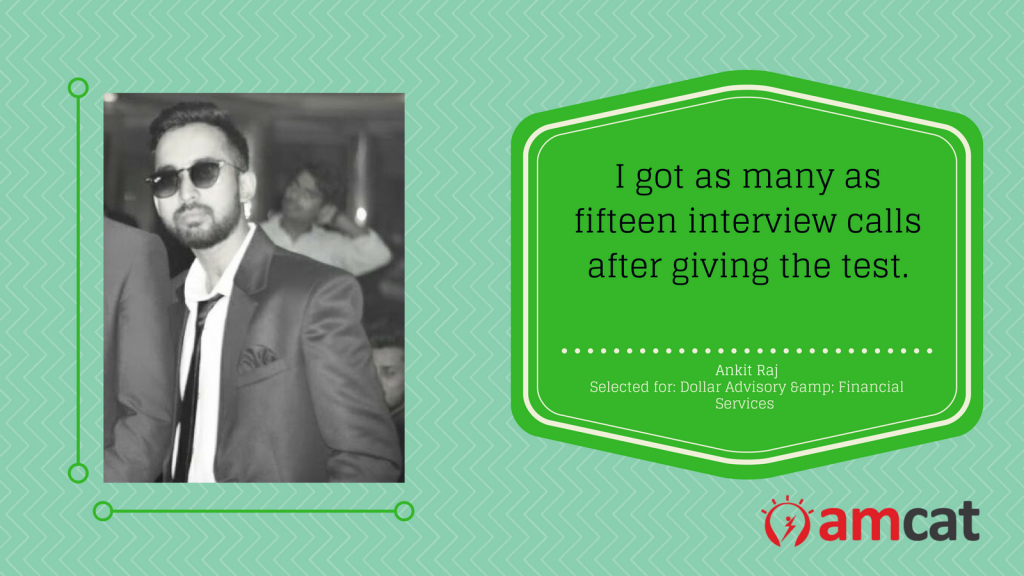 Meet Ankit Raj, the AMCAT achiever who got the job of his choice, in the field of his choice through the AMCAT Test. A passionate individual who wants to learn new things everyday and make his future all the more productive for it, Ankit talks about the difficulties he faced while searching for a job and how the AMCAT Test helped him. Let's hear his story, in his own words.
How was the AMCAT experience? Did it help you with your job search?
"AMCAT was a great experience for me.I secure decent marks in the test and got a lot of interview calls," says Ankit who thinks the AMCAT Test is a great opportunity for freshers to get exposure and find the right job. The AMCAT Test helped Ankit move forward and trade the job market.
When did you receive your first interview call? How many calls did you receive?
"I got my first call within a week after giving AMCAT and got a total number of 15 interview calls."
Ankit grabbed all opportunities that came his way with enthusiasm and prepared well for the interviews. The job interviews were smooth and it was a great learning experience. Something that helped him crack other interviews.
That is great. Really, really great!
Would you recommend the AMCAT Test to others? If yes, why?
"Of course, it gives you many opportunities in the Field or the industry you want to work in."
Ankit Raj saw the importance of the AMCAT when numerous job opportunities opened up for him and made him sure of his choice of giving the test. Today Ankit says he would be happy to recommend the AMCAT Test to others, afterall it brought him closer to his dream job.
In the end, do you have any tips that can help other job seekers?
"Practice as much questions as you can on a daily basis. Work on your English communication and written skills as it becomes very important to have a good command over the language when you sit for job interviews."
A 2017 graduate from Shriram Institute of Technology, Ankit Raj swears by "Practice is the king".
Ankit Raj with his winning smile and hard-working persona is an inspiration. You too can become the inspirations of hundreds and write your own AMCAT achiever story with the AMCAT Test. You just need to schedule and give the test before you are flooded with numerous job offers from all corners of the country.
Not only job offers, once you give the test you will also be eligible to apply for thousands of fresher jobs or jobs in the city of your choice and find your right fit. And if you are unsure on how to proceed, then you can read our AMCAT achiever section and gain some insight and inspiration.