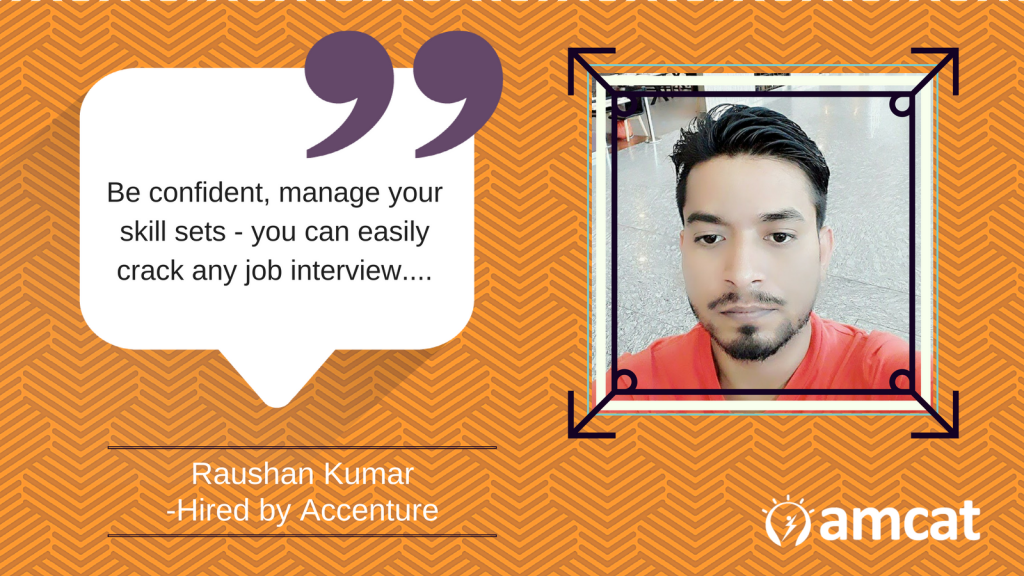 Becoming a software developer – that's the dream that our current AMCAT achiever had, even as he began his journey towards his career path. The 2016 batch graduate from SJBIT, Bangalore explains his arc to the time he fulfilled his dream and was hired by Accenture. This is his story:
Before the AMCAT Test
Raushan Kumar was not having a great time in finding his dream fresher job during college. He explained it during an interview that he gave to us recently. He said, "It's always difficult to get a chance to appear for on-campus drives. I was not getting enough interview calls, easily."
And the toughest thing among it all, for him, was clearing all the rounds of the interview.
And then, the AMCAT test happened for him.
The AMCAT test experience
"I worked hard for my aptitude and technical skills." And it showed. Raushan Kumar performed so well that he became one of the AMCAT test toppers.
He also got his first job interview call within the next fifteen days.
Ask him about the AMCAT test and the job interviews he got after it and he says, "Being an AMCAT topper has given me more chances to attend more interviews. I have got more than 50 interview calls ever since I gave the test."
And he is very, very thankful for it.
"I want to thank the whole AMCAT team. The AMCAT test has changed the way of job search for me, I was more confident after clearing AMCAT test."
And getting hired by Accenture.
Would he recommend it? Yes, he considered. "Definitely – I want to say to everyone who is seeking for job, please take the AMCAT, because you will get more chances to accelerate your career within a small period of time."
What about the overall job search process? We asked him if he could share some hacks with those still searching for jobs? "First of all, try to be confident and if you will manage your skill sets like technical, reasoning, aptitude and communication skills, then you can easily crack any interview."
Thanks, Raushan Kumar for sharing your story.
If you liked reading this AMCAT achiever story, we would encourage you to read more of them in our testimonials section. And if you wish to complete your own journey, consider scheduling an AMCAT test for yourself.