I'm the founder of Dispatch, an app that lets you shop by chat. Just make a request and we'll find, buy and deliver it to you. Ever wished you didn't have to search and shop on your mobile, open a dozen tabs, fill in countless forms, input your address and card details multiple times and then checkout, and then have no way of contacting the retailer to get updates? With Dispatch just chat with an operator via instant message and have them find, buy and deliver anything to you.
We launched Dispatch on August 1, 2015 and within 20 days, we had requests worth $1 million made on the app. This is how we did it.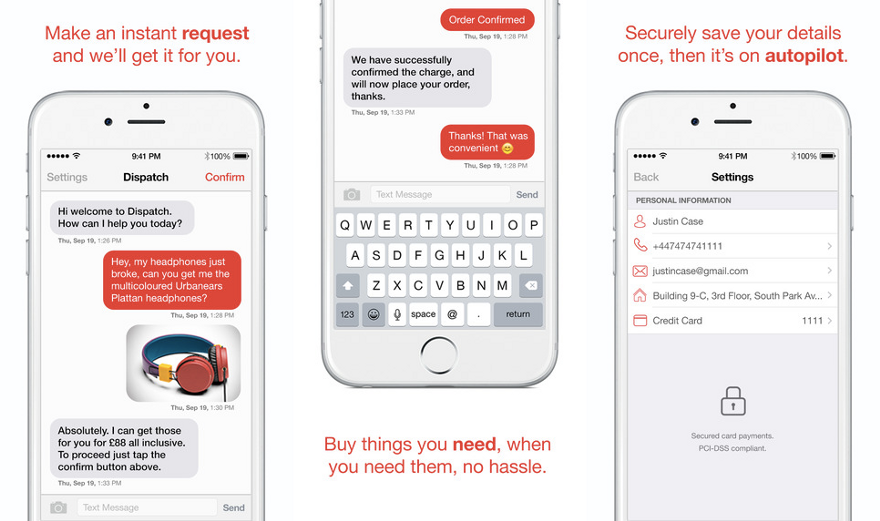 1. We built a great, simple product
Dispatch was built with simplicity in mind. From the decision to have it open directly into the chat window, to not having a lengthy signup process, and a one tap checkout, our user interface was engineered to be the simplest search and shopping experience on earth today.
2. We've been building messaging apps for years
We have built up domain expertise in messaging and have literally built hundreds of user interfaces for messaging apps. One of our first messaging apps was even voted one of London's top ten most loved apps. By experimenting with UI design in messaging for years, we were able to build a simple compelling design that delights users.
3. Emphasis on visual product search
We realized quickly that building a request network via chat would not be complete without photo search. Which is why we introduced the ability to share and send photo messages in the app. Just taking a picture of someting you want and asking Dispatch "can you get that for me" makes product search so much easier and so much more compelling.
4. Customer service with a personal touch
One of the biggest frustrations that we've experienced personally has been the difficulty of getting good customer service, especially while waiting for a product to be delivered. Retailers and delivery companies treat communication with customers as an afterthought, and actually build their experiences to limit the ways you can contact them. At Dispatch we connect you with expert shoppers directly who you can message anytime, not only to request items, but also to ask delivery times, and communicate directly to request changes if needed.
5. Going the extra mile
One of our early requests was for a chocolate bar that had been discontinued in the UK last year. We spent the entire day searching and finally found the item overseas, had it shipped over in four days, and delighted our customer who thought he'd never have the chance to have those chocolates again. We have managed to delight customers to the point that we now have almost 20 reviews all 5 star ratings across the app stores.
6. End-to-end Service
One of the benefits of using Dispatch is that you don't have to worry about searching for the product you're looking for, you don't have to worry about going through the hassle of checking out and making the purchase, and you don't have to worry about delivery. We have taken the initiative to build our system to offer you an end-to-end service, from search, to purchase to delivery, and have recently started to offer same day delivery across London within a one-hour window of your choice.
That's it. There's no secret, no crazy growth hack. Just build a great product that people want and love to use and you're on to a winner.
(The article originally appeared on Medium written by Ali Ahmed, founder of Dispatch)