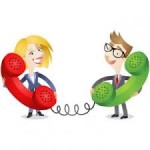 So you're not meeting your recruiter in person and will be interviewed over a call. Sounds easy, right? It isn't. Many students make the mistake of taking telephonic interviews lightly and blow away a perfectly good opportunity. Telephonic interviews as just as important as an in-person one. Follow these tips to ensure you can reach the next step of the hiring process –
 1. Fix up a time and day that is convenient. The interview is mostly scheduled keeping the availability of both parties in mind. Make sure you choose a time when you would be able to attend to the call.
2. Keep a copy of the cover letter and resume in front of you. You do not want to be caught off guard with a particular query your recruiter may raise. This will also help you give your introduction in a proper organised manner.
3. Make sure to find a quiet place for the interview. Switch off the television or music to get rid of any distractions. Be in area which has good network to avoid frequent call drops.
4. Keep a glass of water nearby so that a dry throat or cough does not get in the way of your discussion. Avoid eating or chewing anything like a gum to be able to talk clearly.
5. Address the interviewer as Sir/Ma'am unless specified otherwise. Do not be on a first name basis as the recruiter may take offense.
6. Be calm. You will end up talking too fast or not be attentive if you're nervous. This is your time to show your ability to be patient and handle situations.  Nervousness can come across very easily whether it is over a call or in person. Listen carefully, take a deep breath and then respond.
7. Keep a cheat sheet. Unlike a face to face interview, you have the benefit of keeping notes handy. If there are any particular answers you are not confident of or any doubts you may want to clear, jot them down beforehand.
8. Don't stretch the topic of discussion. Keep your answers crisp and to the point. You will not be able to judge if your recruiter has lost interest in your talk so stick to short answers.
9. Use clean and professional language during your interview. This even applies to a telephonic conversation. Avoid use of slangs or filler words and keep your tone professional.
10. Dress up. Yes, this may sound odd but a good posture and dressing up can boost your confidence and will even come across in your tone. Smile and let the confidence show even as you speak.
Phone interviews can be tricky but take a cue from these tips to ace your next interview. 🙂