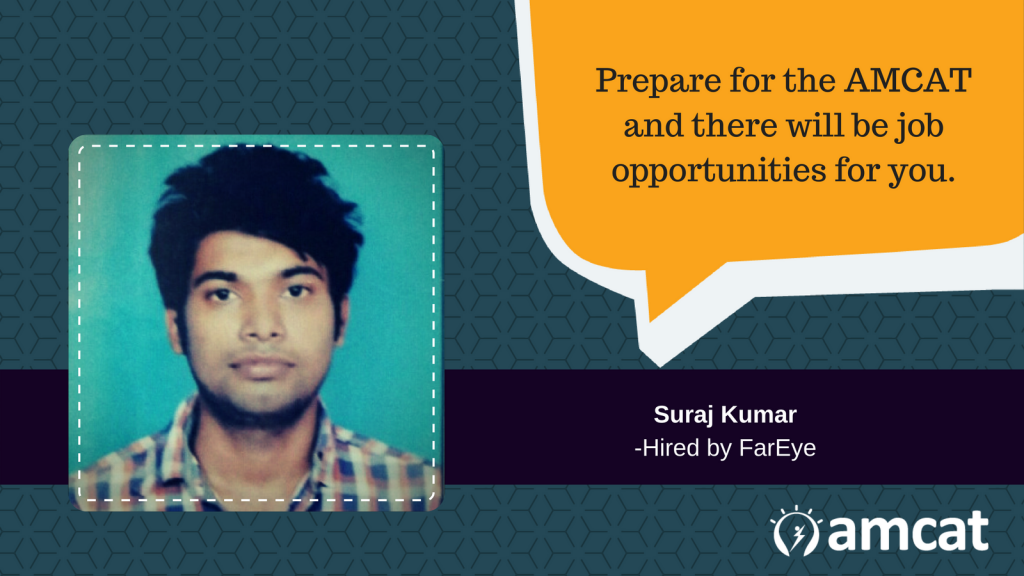 It's tough – to find the right company or even the right gateway to locate or scout for fresher jobs – as most of the graduates around you would tell you. And that is one of the basic troubles that freshers face during their job search journeys.
And that's the point which Suraj Kumar, a 2016 engineering graduate from the Apex Institute of Engineering Technology found himself on. Before he gave the AMCAT test.
Meet Suraj Kumar
In a recent interaction that we had over the email, Suraj Kumar talked at length about his career goals, his AMCAT test journey and how it led him to his current job, with logistics management start-up, FarEye.
"As a fresher, I found many difficulties in searching for the right company or an appropriate gateway for a job or even a job interview", said Kumar.
And then he heard about the AMCAT Test.
After the AMCAT Test
"After giving the AMCAT test, I got many interview calls – in fact, the first came within two weeks of giving the test." And there were many. As he put it, he received a minimum 30 calls during his job search expedition, after giving the test.
"AMCAT helped me in attending the interview at FarEye."
So, would he suggest it to others? "Yes", he shared. Kumar told us, "Yes, I would surely suggest the AMCAT test to every fresher – it gives a great platform to choose various companies."
And what would he suggest to those who have made the choice and are preparing for it? "Yes. Just prepare well for the AMCAT and there will be a lot of job opportunities for you.
Did you like this one of our AMCAT success stories? You can read up on more of these stories in our testimonials section. And if you are considering giving the test yourself, you can schedule one for yourself now.