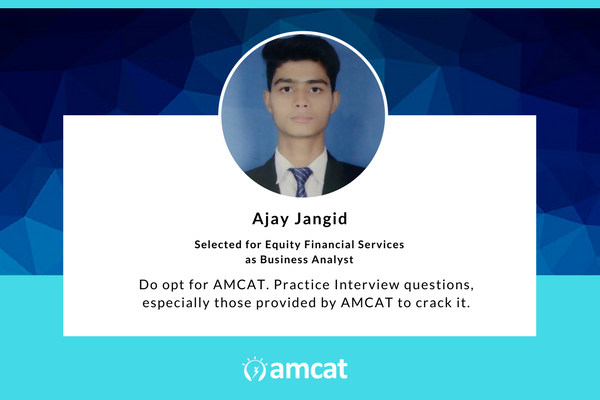 Associate AMCAT jobs only with IT positions? Or core engineering / BPO jobs? The skill assessment test, which is taken by nearly 4 lakh aspirants every year, connects them to matched, relevant jobs in
Our AMCAT Success story of the day is one such story. Meet Ajay Jangid, a 2018 BTech graduate from the ANAND International College of Engineering. He found his inclination for strategy matched to a business analyst position in Equity Financial Services. In this testimonial, we explore how this happened, courtesy the skill assessment.
'I got a path and a platform!'
"As an engineer, I am the kind of person who believes in doing rather than saying and am eager to learn new things." In his spare time, Jangid hones his ability to think fast and make fast decisions – by playing shooting games. However, the road ahead for him was not an easy one!
He begins by discussing the problems he was facing near the end of his graduation, in finding a stable fresher job. "I had no platform to get jobs."
He got around this, by opting for the AMCAT.
Next, we asked him how he got around to preparing for the skill assessment. "I prepared using books and reference notes. The test was good and difficult as well."
Connecting the AMCAT Success Story:
The interview calls and invitations took 2-3 weeks after he Ankit received his results. And he received many of them – till the one which really piqued his interest – the job at Equity Financial Services.
Talking about his interview process, here, Jangid described it as good, but a little lengthy and extended. "I got the knowledge about company via AMCAT and did something on my own."
In the end, we asked him how he would describe his own AMCAT experience. Would he suggest it to others?
"Everyone should take it, because it provides a platform for the fresher to get more opportunities and to grow himself. For a candidate who doesn't know what to do, it is the best way or path for them."
He also has points on preparing for the interview process ahead. "Go through the process of interview which is being provided by AMCAT and practise a lot of questions to crack that. They do help you crack them."
Congratulations Ankit, for making it through. We hope your story serves as an inspiration for all those who are on their own job search tracks, for a way forward.
If this is you, we recommend that you also opt for the AMCAT. Today. Register now through this link.