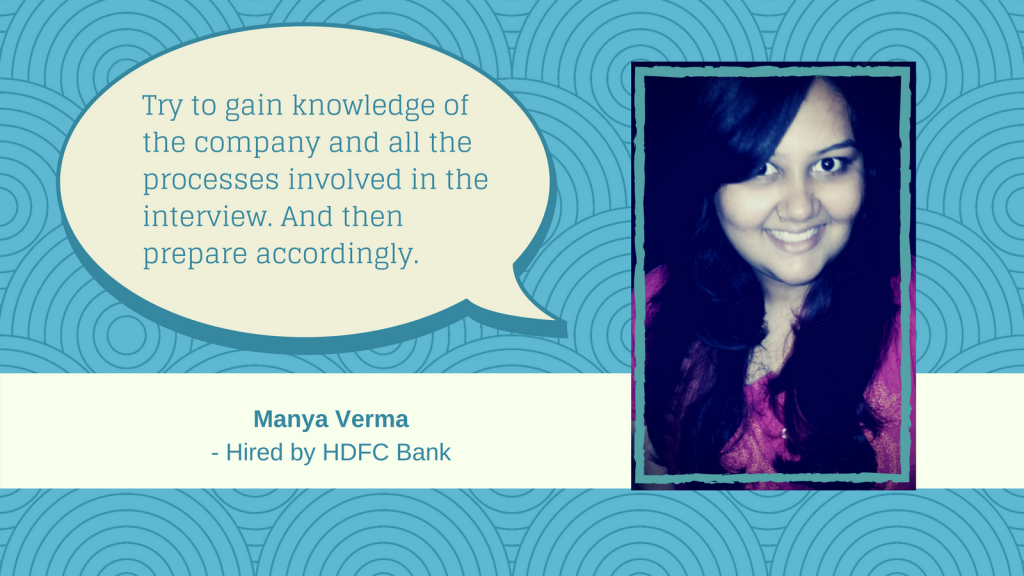 Our achiever's journey for today is a little different. Beginning on a conventional job search trail, it's not someone who is looking for a stable job or plagued by problems in their normal job search experience. It is someone who knows where they want their life to go. And maybe, that's how they cracked an HDFC job for a virtual relationship manager!
Meet Manya Verma:
'I took the AMCAT to give a headstart to my career.'
Manya Verma, our candidate for the day, has her aspirations in place, alongside her self-image. She calls herself a competitive person, with great communication skills and leadership qualities. "And I have started my journey to be a successful leader."
A 2017 B.Tech graduate from the Jawaharlal Nehru Engineering College in Aurangabad, Manya Verma explains that she had taken the AMCAT Test to explore different career opportunities which she could opt for.
When quizzed about the test experience, she said, "The test was easy for me and gave me the confidence about my aptitude skills."
And the range of interview opportunities, which arise from the test? "I got my first call within a month after the test and am still getting many."
The HDFC Job Interview:
"The interview process was smooth", she recalled. "I went through all the sites possible to guide me through the interview process and gain more knowledge about the profile I'm opting for."
She did get through on the basis of this research. And that's the mantra she has for anyone else preparing to ace a job interview as well:
"Always learn what the company is all about. Try to gain knowledge of all the processes involved in the interview and prepare accordingly."
In the end, would she recommend the AMCAT Test to others? This is what she has to say:
"Definitely yes! It helps people in gaining information about different companies, which they are not aware of. The AMCAT is a good career guide for freshers."
Keen on more achievement tales? Try a hand at our achiever's diaries for more of them. And consider – when are you taking your AMCAT Test?