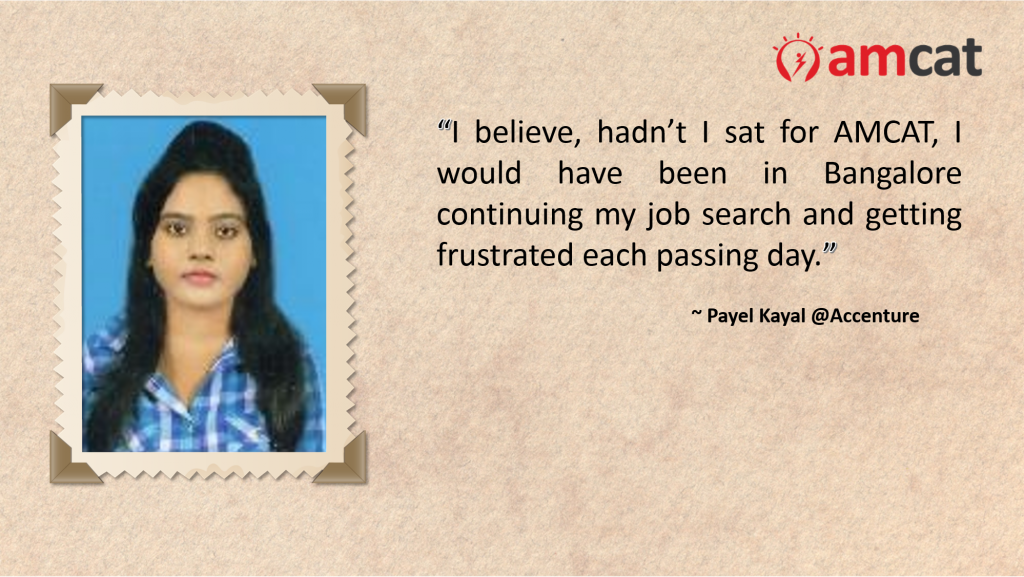 Accenture came to me through AMCAT.  I believe, hadn't I sat for AMCAT, I would have been in Bangalore continuing my job search and getting frustrated each passing day. I highly recommend it to all serious job aspirants, shares Payel Kayal, Techno India College of Technology. Considerable advice, to all those looking for fresher jobs in 2017.
Q: Tell us something about yourself and your career goals.
My name is Payel Kayal. I'm from Kolkata. I completed B.tech in ECE from Techno India in 2016. My career goal is to get a good job in a reputed company.
Q: What difficulties did you face while searching for a job and how did you overcome those difficulties?
I came to Bangalore to get a good fresher job but it turned out to be a big mess. I gave many interviews but either I got rejected from the HR round or from the technical round.
Q: How long did it take to get your 1st interview call after AMCAT?
It took around 1 month.
Q: Tell us about your experience post giving the AMCAT test and how AMCAT helped you in getting the job at Accenture?
AMCAT is a versatile test. It includes questions from various sections like Aptitude, Reasoning, Technical, English and much more. It was only because of AMCAT I got to know my real strengths and weaknesses. It really helped me a lot to get a good job.
Q: How many interviews calls did you get after taking the AMCAT?
It was more than 10 calls.
Q: Would you suggest other job seekers to take AMCAT? If yes, why.
Yes, AMCAT is a wonderful platform for freshers and the feedback report of AMCAT is very accurate. It helps you stand a step ahead of the crowd.
Q: Would you like to share some tips which can help other job seekers in getting a good job?
I just want to say to all the job seekers Crack AMCAT with a good score. It will definitely enhance your chances of getting a job in reputed MNCs.
Payel is not the only one. AMCAT has helped millions of job seekers and taken them a step ahead in their career. Want to know how? Take the AMCAT test today!