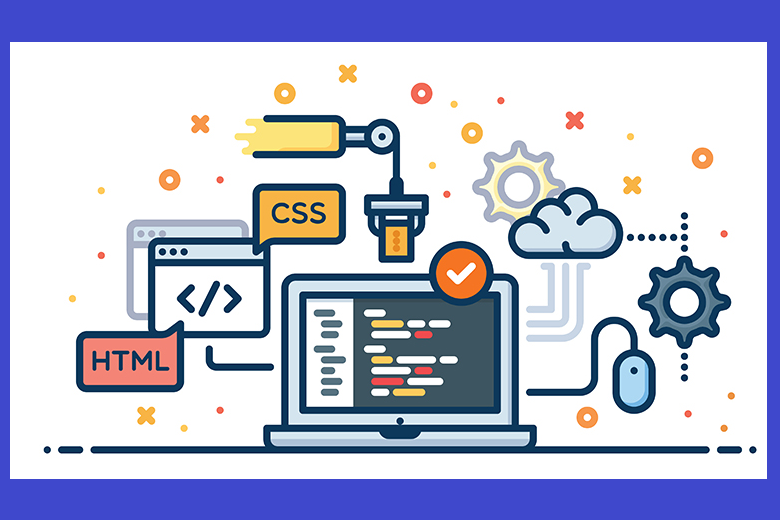 Keen on an elevated platform for your skills in open source Java Web Development? While many students who are looking for Web Developer Jobs after college claim expertise in the skills, you need an added focus, to rise above the competition. And this focus comes with an industry recognised certification for your skill. We present, the AMCAT Web Developer JAVA certification.
The Web Developer JAVA Path
We begin an examination of the career path for a JAVA Web Developer in India, with a basic insight into the field, scope and average salaries one can earn from it.
Web JAVA Development – What does it mean?
A foundational, open source programming language, JAVA has been used for developing complex web applications. These apps are laid down in Javascript, a default scripting language for all modern browsers. And if you know both JAVA and JavaScript, you have an immense advantage in the IT world of web development.
Java Web Development works by creating complete applications which could work on a single computer or be distributed among servers and clients on a network. This includes embedded devices (Mobile, Tablets and Laptops) too.
Scope of JAVA Web Development in India:
In India, IT and ITES (including outsourcing) industries remain an engine for growth, despite recent challenges posed by a tightening global market, automation and changes in technology. Meanwhile, despite a tendency towards Python and JavaScript, JAVA and PHP are still the most searched programming languages in India.
Moreover, with the focus on startups and Digital India, it is believed that the need for developers would continue to rise.
JAVA Developers bring valuable technical expertise, which can modify to address the problems they're specifically working on. They don't need a college degree to prove their JAVA expertise and can get on a fast track towards a high-flying career, with the right skill additions.
Jobs Roles Suitable for JAVA Developers:
The following job roles are in line with opportunities for JAVA Web Developers:
Java J2Ee Developer
Java Programmer
Java Web Developer
Java Software Developer
Graphic & Web Designer
Web Developer
Web UI Developer
Skills Needed for JAVA Programming:
A JAVA Web Developer should have the following skills:
Java
HTML/CSS
Javascript
Oracle
Prominent Industries and Companies for Dev Jobs:
Web Developers are in demand in IT-Software, Software Services, Internet, E-commerce, Banking & Financial Services, Travel , Education, Media, BPO, Telecom, Healthcare, Insurance, Automobile, Recruitment and others.
These companies are the most prominent brands which hire JAVA Web Developers:
Capgemini, Oracle, Wipro, Accenture, RBS India Development Centre, Fidelity Investments, Goldman Sachs, Amazon.com, Reliance Jio Infocomm, Cisco, ITC Infotech India, HCL Technologies, Wipro, Tech Mahindra and Mphasis.
You can earn an average salary from Rs 2 lakh to Rs 10 lakh per year, based on which organisation you're working with, where and what is your level of expertise. Getting there is also dependant on how you gain your first opening. And that's where the AMCAT Web Developer JAVA Certification comes into play.
The Web Developer JAVA Certification
Often, aspiring web developers are not able to gain the right opportunities or work with the right companies, because they were not able to prove their expertise. The lack of a professional certification weeds them out of the selection process, even before they can display their skills.
Then what can you do? Opt for an industry-recognised certification, which assesses and presents your merit in the field. We're talking about the AMCAT Web Developer JAVA Certification.
Why the AMCAT Web Developer JAVA certification: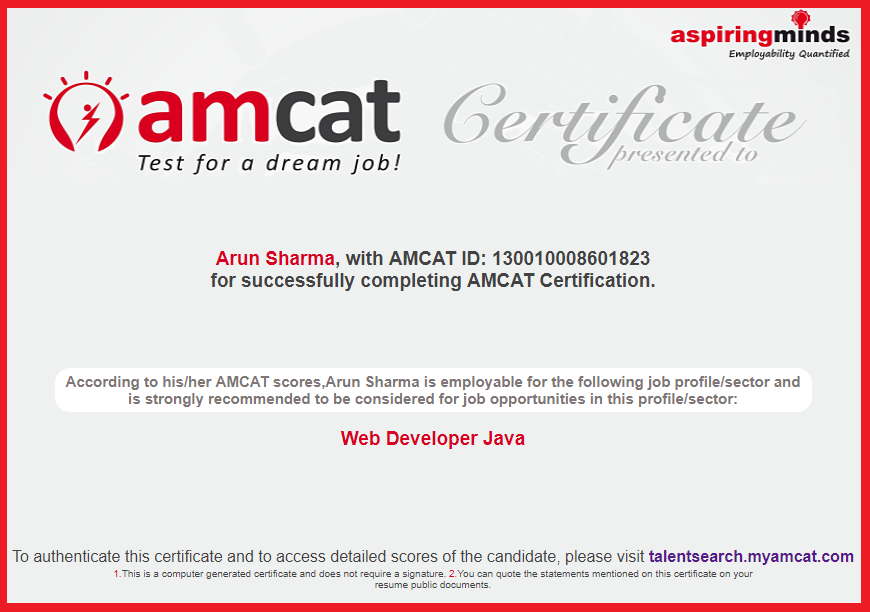 A merit-based certification, the "Web Developer: Java" certification by AMCAT is earned after successfully clearing the assessment. Based on hiring patterns and skill patterns of required by today's IT Industry, it is accepted by 3000+ organisations.
The certification test is also a user-oriented assessment – You can take the exam at home. You also receive practice sample questions.
Here are the core features of the AMCAT Web Developer: JAVA Certification:
Take from Home

: Don't worry about your test centre's location. You can simply assess your skills, while sitting at home.

Duration of Test:

95 minutes.

Certificate:

You become AMCAT certified Web Developer: Java

Certification Validity:

Get certificate within 24 hours of the test. The Certificate is valid for 1 year from the date of the test.

Sample Questions:

 Before attempting the certification exam you can exercise your skills by solving the sample questions that come along with the purchase of test. Here are a few sample questions: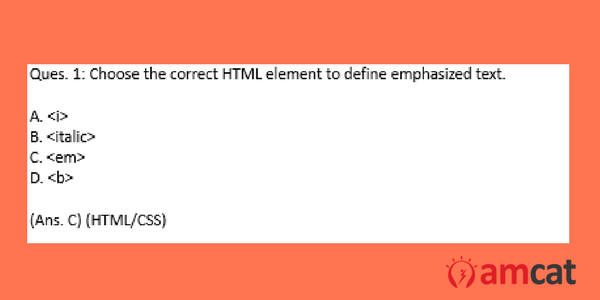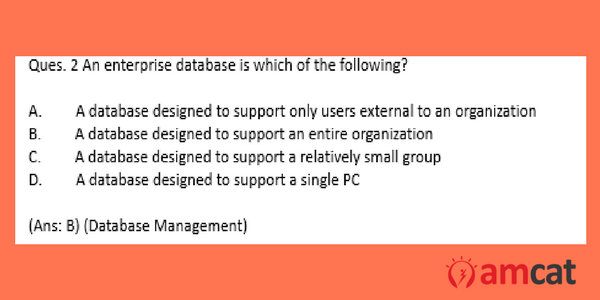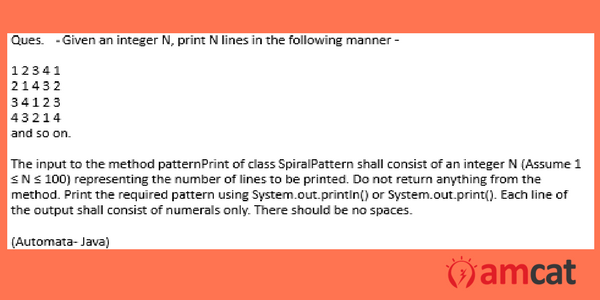 Analysis and Feedback Reports:

Detailed analysis of performance and feedback report will be shared along with resources to improve your skills

Test Environment:

Proctoring mechanism like audio and video monitoring coupled with geographic tagging are enabled to validate the integrity of the test.
Fig 2: Test Interface
Why you should get Web Developer: Java AMCAT certification?
Nowadays, more businesses focus on increasing their internet visibility. To do this, they demand quality web developers. A good pay, phenomenal career growth and shining opportunities line this path. So, having a certification from a trusted source puts you at an immense advantage while showcasing your skills to the recruiters.
The AMCAT Certification, recognized by more than 3000 companies, is the 2nd most published certification on LinkedIn. It not only improves your chances of employability but also helps you attract the top recruiters and massive growth opportunities. You get a detailed diagnostic feedback and evaluation report along with resources to improve your skills. And the added AMCAT advantage to get closer to your dream job.
How to get Web Developer: Java certification?
You can get the AMCAT's Web Developer Java certification by followiing these steps:
Step 1:

Buy the product

to take the assessment. Attempt the test within 6 months from the date of purchase.

Step 2

: Take the test from home. Complete the test in allotted time.

Step 3:

Perform well and earn the certification.

Step 4:

Get assessment report and analysis of performance. Get feedback on your strong and weak areas and get resources to improve your skills.

Step 5:

Publish your certificate on LinkedIn via

myamcat

.

Step 6:

Apply for jobs

and get closer to your dream job.
You will be assessed on the following module for the certification
Automata – JAVA:

The assessment allows evaluation of your actual java programming skills by providing the functionality to write the program in an editor, compile and run test cases, all in the assessment environment itself.

– 45 minutes

JavaScript:

The module tests various theoretical, conceptual and practical aspects of Javascript (JS) such as JS Basics; Object-Oriented Programming; JS Object Model –

15 minutes

Oracle DBA (Entry Level):

The module tests the ability to understand, manage and manipulate critical Oracle databases for database administration and database management services

– 20 minutes

HTML/CSS:

This test covers all the major areas including Basic & Data Elements, Multimedia & UI Elements, Application APIs etc. of HTML/CSS.

– 15 minutes
How to assess your performance?
Our detailed analysis and feedback report provides your scoring in the test and indicates your strengths and areas of improvement in each section. It gives your percentile to help you assess your skills. The report also features resource section where you can improve your skills even further.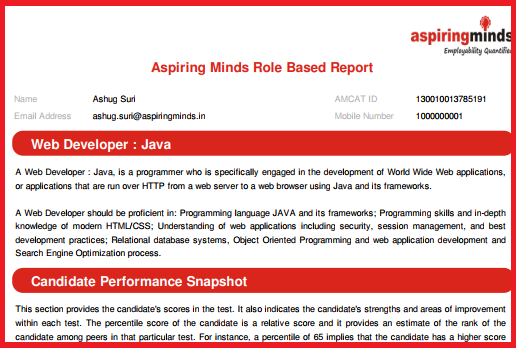 Offers For You!
Buy along with AMCAT test and get 40% off on the price of this certification. Click here to buy.
Prepared with Malvika Sinha