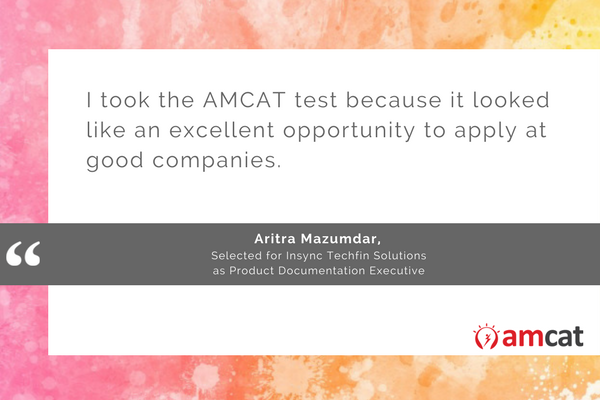 When we come across candidates who were able to find a foothold, a fresher job with the kind of company or the kind of opportunity they wanted, courtesy the AMCAT Test – it's gratifying! And today's story, which linked an engineering aspirant to the kind of IT job he wanted, extends this thread.
Meet Aritra Mazumdar, a 2017 Engineering graduate from Techno India College of technology – selected to work with Insync Techfin Solutions. 
Mazumdar was looking for a decent opportunity and had found that the placement experience at his own college campus was not that good. He decided to opt for the AMCAT Test.
"I took AMCAT test because it looked like an excellent opportunity to apply at good companies."
So, he opted for it and went in with adequate preparation. "The AMCAT experience was quite good. To clear or to score high you just need to focus on the basics and keep them clear and fundamentally correct."
There was albeit, a longer wait period.
"I got my first interview call 2 months AFTER I gAVE the AMCAT."
Coming to the job he has been selected for, we quizzed Mazumdar about his job interview experience with Insync Techfin Solutions.
"The process was pretty systematic and friendly. I was mainly focused just upon my communication skills." In fact, based on his experience for this job, Mazumdar shared the following insight, "Go through the basics and get them right as it would be of great help while giving the test. And while going for an interview don't try be over smart. Just be confident and patient."
Finally, would he recommend the AMCAT Test to others?
"Yes, I would definitely recommend AMCAT to other people as it proves to be a great platform for fresher candidates to move forward and achieve their dream job."
Well done, Aritra! We hope your story works as an inspiration for others who are looking for an IT job for themselves. It should also help them consider scheduling an AMCAT Test for themselves.