"I think it is possible for ordinary people to be extraordinary" a compelling quote by Elon Musk fits very well here since we are going to talk about all the people who went the extra mile and become extraordinary!
Let us start by telling you all, that we are here to tell you something big & exciting, for the very first time AMCAT is introducing a campaign – Hall Of Fame!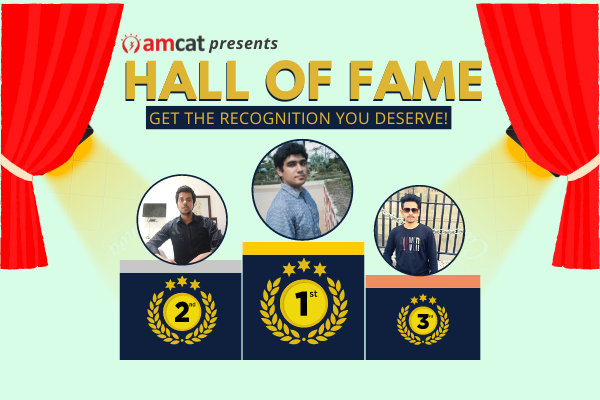 Similarly, we also have our own set criteria for the campaign which we are going to follow throughout the campaign and the best part is that this is going to be a monthly activity, so you don't have to be upset or disheartened if in case you do not get recognition in the first month, you will have a lot of chances!
Register for AMCAT | India's Leading Fresher's Assessment And Job Site (myamcat.com)
Sounds exciting right?
All the top scorers of AMCAT, this is your time. We will be announcing the top 5 winners from each region (South, North, East, and West) and the names will be announced through our social media channels, Email marketing, and on AMCAT's website.
Not just this, we are also going to felicitate the top 20 candidates who have achieved the maximum score in AMCAT. Now, you all must be wanting to know about the benefits that this campaign is going to offer. We have listed them below for you:
This activity will recognize the winners on myAMCAT website where 450+ organizations post their job requirements in a year.
The profiles of winners will be forwarded to all the premium job profiles.
Winners will be provided access to upcoming jobs and branding activities.
Winners will also get highlighted, and they can become the social media ambassador for the month.
Also, they will get free technical AM certifications.
It's not over yet, we have something else as well for everyone, you guys can also check out the companies which are hiring currently, and you might find a suitable opportunity for your role. If in case, you are looking out for a job, you can surely try and apply for some of the suitable openings. Not just this, you can also go ahead and read the success stories of the people who got placed through AMCAT, wherein they talked about their entire journey right from the point when they were struggling to get a job till the time when they got successful in the same.