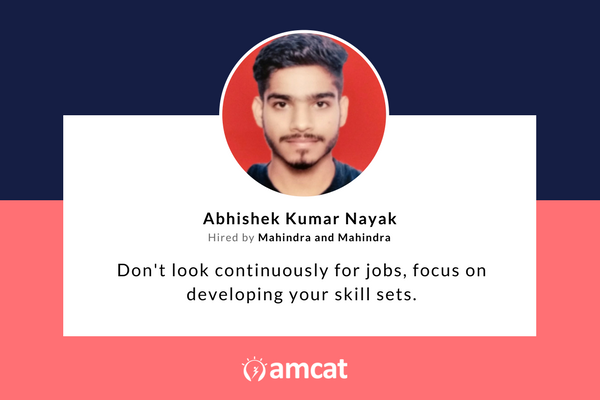 Passionate about learning new things, this 2017 mechanical graduate had briefly heard about the AMCAT Test, before he had given it. However, this is how he was able to learn about different job opportunities and even make it through to a job at Mahindra & Mahindra.
"Getting a job after engineering, (ESPECIALLY MECHANICAL) is very tough in India. I'M lucky that I got placed in Mahindra on the basis of AMCAT scores."
That's what Abhishek Kumar Nayak believes after his entire job search experience. Nayak, a B.Tech (Mechanical) graduate from Raj Kumar Goel Institute of Technology (UP Technical University) had come to the AMCAT Test, without a clear agenda. In hindsight, he claims it was a great decision.
"I didn't know much about AMCAT, when I heard about it during my college curriculum. Being good at aptitude, I gave the test and was able to get good percentile. After giving the exam, I got to know about the variety of industries and companies in India. It was such a great decision to appear for AMCAT."
How did he prepare for it?
"I didn't specifically prepare for the AMCAT, as I'm used to solving aptitude questions (I find it very interesting). AMCAT test was very smooth and moderate in terms of difficulty level. Though I was not totally prepared for my domain, I managed to solve it as it was quite simple."
And what is the realisation you can share with us on the basis of your AMCAT experience?
"I would say that with a good knowledge and proper time management during the test, you can open the door to lots of opportunities."
Though Nayak had taken the AMCAT Test based on information he heard at college, he concedes that started applying to jobs based on his scores a little late. "I had applied through the AMCAT after 3 months of giving the test. I had missed some opportunities. I also got rejected sometimes but continued applying for the relevant positions."
And then there was an application for a graduate apprentice position with Mahindra & Mahindra. The coveted job at Mahindra & Mahindra.
"I had applied for the job at Mahindra & Mahindra on 15th September and got shortlisted for the interview."
How was the interview process at the company? What helped you through it?
"Being an engineer, I have good experience of giving interviews. I prepared for technical questions and had gone through my projects briefly. During the interview, I tried to be myself and didn't think of how it might go. I think this attitude helped me to gain confidence and boldness during my interview."
"The interview was basically focused on knowing the kind of person I am, my career aspects and aspirations."
Would you recommend the AMCAT to others? Why?
"The main aspect that differentiates AMCAT from other employability test is the number of companies it has been linked to. One can easily get the company on the basis of their skill sets. All you have to do is get a good percentile and the rest is your talent."
In the end, do you have any tips that can help other job seekers in getting a good job?
"Don't look continuously for jobs, focus on developing your skillsets rather. Keep calm and believe in yourself. Never give u and Most importantly, don't focus on the end, live the present because it's all about the journey itself."
Congratulations Abhishek Kumar Nayak, for nailing the Mahindra job. We hope that your success journey helps others prepare for their own individual arcs.
If you wish to pursue a similar arc, consider scheduling an AMCAT Test today.