AMCAT exam is a standard employability assessment supporting thousands of students and professionals all across the country in getting high paying job opportunities with a healthy work environment.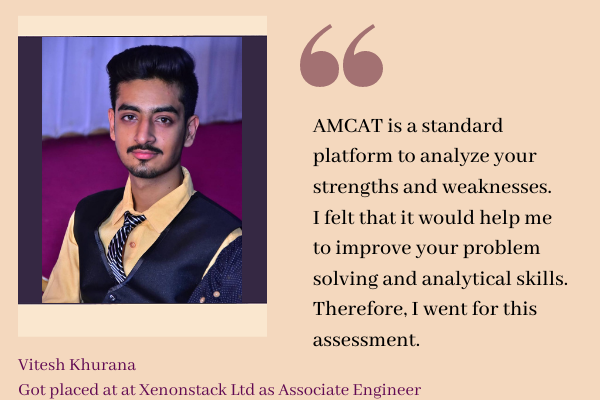 Amongst them, was our cherished candidate Vitesh, who walked us through his professional journey on how he kickstarted his career with this assessment.
He got placed as an Associate Engineer at Xenonstack Ltd. Apart from that, he received many other calls. However, the story is not as simple as it appears. Videsh strove hard and exhibited an outstanding performance with AMCAT. As he was in a 3-tier college, he wondered if he could ever make it through a decent job with a valuable role. With a sigh of relief, he optimistically shares his experience of getting his first job. Scroll down to dive into his success story.
Q1. Why did you opt for the AMCAT exam?
A1. "AMCAT exam is a standard platform to analyze your strengths and weaknesses. I felt that it would help me to improve your problem solving and analytical skills. Therefore, I went for this assessment."
Do you want to book your AMCAT slot? Click Here to register.
Q2. While looking for a job, did you face any difficulties? Please elaborate. 
A2.  "I belong to the tier-3 college. Therefore, I had to struggle a bit while finding suitable opportunities. As I had slighter exposure towards the job market.  As the result, sometimes I missed some potential opportunities as well.
I would therefore appreciate how the AMCAT platform provides an exhaustive list of decent to high paying job opportunities. This is the kind of assistance every fresher look for. ", said Vitesh.
Q3.  Tell us about the job you got through AMCAT and other offers and interview calls you received through it.
A3. I have applied for so many opportunities through AMCAT and also got interview calls. Recently, I got selected at Xenonstack Ltd as Associate Engineer. I would like to thank the AMCAT team for bringing me closer to this opportunity.
Do you want to book your AMCAT slot. Click Here to register.
Q4. How did the AMCAT feedback report help you assess your performance? 
A4. The feedback report is an exceptional tool to demarcate performance. I could easily see where I was lacking and henceforth worked upon it. By knowing my strengths through the feedback report, I could exhibit that confidence during my interview. As you can see, from zero possibility, I could get multiple calls by working on these aspects. I feel, this kind of support transforms a fresher into a valuable professional.
Q5. Would you recommend AMCAT? Why?
A5. Of course, I will. The answer is evident through my experience with the AMCAT exam. Getting a job with limited sight and opportunities was a bleak possibility for me. However, with AMCAT, I got exposed to a plethora of them. In fact, got placed with the. Therefore, I will not miss out on a chance to share the platform with someone who needs it.
We were thrilled to know how Vitesh's journey unfolded on encountering AMCAT. We wish him all the success on his way. 
Do you want to book your slot and embark on a successful journey.Click Here
All the best
Get in touch!