AMCAT exam is an employability assessment that fills the gap between job seekers and recruiters.
Every year, the placement seasons hit the aspirants with a lot of inner turmoil, especially the freshers.
Engulfed in the endless quest of uncertainties owing to their career path, they sometimes lose sight. This is precisely where AMCAT jumps in and tries to resolve the situation by providing the best career opportunities to the aspirants.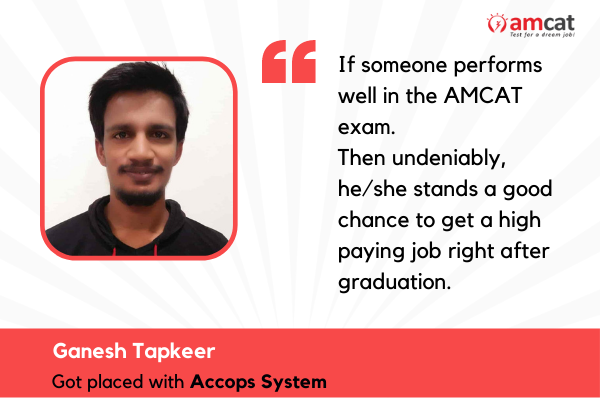 Our candidate, Ganesh too was going through this situation until his college introduced AMCAT as a part of campus placement. All his hard work paid off when he got selected as a Software Engineer with a package of CTC 5 LPA. He also received the opportunity to get trained on-field with decent pay.
According to him, if a person performs well in the AMCAT test, then no one can stop him/her from getting a high paying job irrespective of them being a fresher.
Busting many myths and confusions around job scenario, Ganesh walked us through his journey. He had his share of ups and downs which he overcame with his persistent efforts. Wasting no time now, let's dive into this fulfilling conversation.
How did you come to know about the AMCAT test?
"I got to know about AMCAT through my college itself. Our placement cell conducted the recruitment through it."
Indeed, this year too had its impact on changing the job framework. However, trying to offer the best possible solution, AMCAT from home is striving to ensure hassle-free growth of the entrants.
To know more about the AMCAT test: Click Here
Did you face any challenge?
"I belong to ECE background. However, not many core jobs were available at this juncture."
Indeed pandemic has its share in limiting few opportunities. However, this did not stop our aspirant, Ganesh.
Suiting his expertise, he applied for software engineering jobs. And guess what, he got one. In the next segment, we shall be exploring more about his job offer. Scroll down below to find out.
Want to book your slot: Click Here
Which company did you get placed with?
"So based on my AMCAT exam performance, I got placed with Accops Systems as a Software Engineer."
"In this company, I shall first receive my training in which they will pay me 3.5 LPA. After its completion, they will offer me a CTC of 5 LPA.", he added.
How did the AMCAT report help you?
"AMCAT feedback report offers a comprehensive insight into my improvement. I gained a lot of understanding into my strengths and weaknesses which otherwise was never in my understanding."
Ganesh knows, he will never repeat the same old mistakes that were limiting his growth all this while.
Want to book your slot: Click Here
Would you recommend the AMCAT exam to your peers?
"Definitely yes." He asserts
"I feel, if you score well in this assessment, then you stand a good chance to get placed with lucrative job opportunities right after graduating."
He adds, "And this, I feel is one of the major concerns many graduates face while assailing through all sorts of anxiety and overthinking during their job hunt."
Henceforth, he has already recommended the AMCAT exam to 10-15 of his friends who are struggling in finding the right work opportunity. He acknowledges how drastically it will ease out their search.
Want to book your slot: Click Here
We wish him all the success in embarking on his career journey.
All the best!
Get in Touch