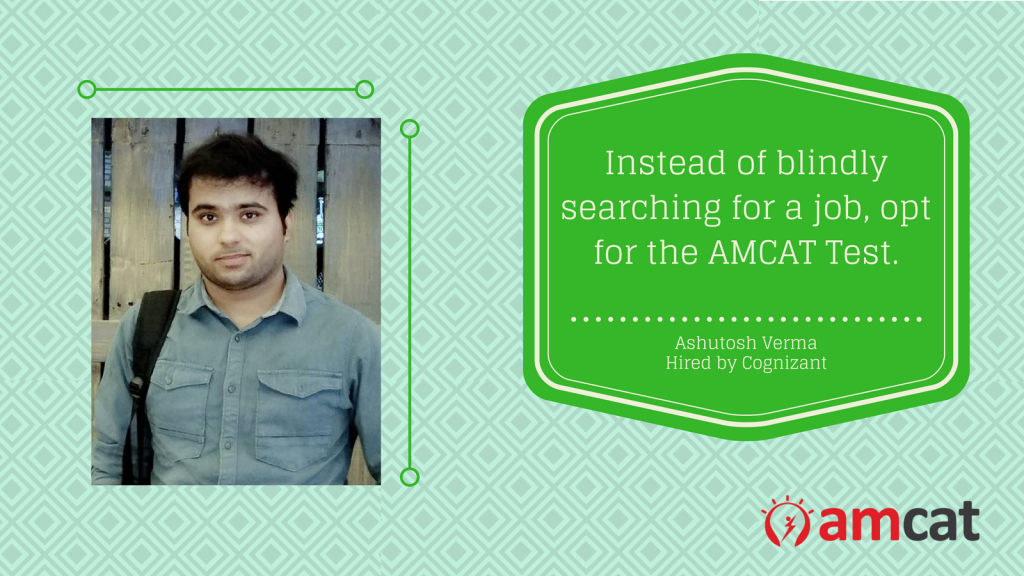 What should a student who loves to write code do to get a job? Give the AMCAT test – AND No, We're Not the Ones Saying That. For the last one year, we've been humbled by the sheer amount of good feedback (and some constructive feedback as well) which we have received from students who have taken the test and joined successfully in our AMCAT Success Story database. And today's chosen candidate Ashutosh Verma has gone ahead with those very words for us – Thank you!
Ashutosh Verma loves to code. Aspires for a career in data analytics. And is a 2016 graduate who has been recently hired by Cognizant. This is his success story.
AMCAT Success Story: Ashutosh Verma
"My name is Ashutosh Verma, a graduate in computer science from BKBIET (B.K. Birla Institute of Engineering & Technology), Pilani. I have done training in advanced PHP and have done various online courses in analytics. I am a regular chess player and an avid traveller."
Hmmm… So, how did this happy-go-lucky student come to the AMCAT test?
"Getting placed was a major goal in my final year but only a few companies had visited (the college) for the campus placements. And then one day, while scrolling down Facebook, I came to know about AMCAT. After reading one of the testimonials on Facebook, I decided to take the AMCAT test."
Ok. How did your test go, Ashutosh?
"While taking the AMCAT, the staff present there was very helpful and the environment was very silent, which helped me to concentrate on the test well."
And the interviews?
"I received my first interview call, within one month after taking the test. Till today I have received over 30 interview calls and still counting."
And one of them was your current company, Cognizant. How was your interview experience with Cognizant?
"I got an interview call from Cognizant IT IS at Hyderabad. The process started with GD round, Technical round and HR round. After the HR round, those who were selected were given a small orientation about the company and the job profile. The overall process was smooth.
Would you recommend the AMCAT to others? If yes, Why?
"I would surely recommend AMCAT to freshers as well as experienced candidates because it is the only platform that provides filtered job search based on your profile and AMCAT score. And also there are a large number of companies you can apply to, based on your domain and interest."
Thanks Ashutosh! In the end, do you have any words of wisdom for other job seekers in getting a good job?
"To all the job seekers, I would like to say that in spite of blindly searching for a job, one should go for AMCAT. As, it will provide them with a score, and that will open hundreds of opportunities for them. So prepare for AMCAT, take the test and get a good job."
Did you like this one of our AMCAT success stories? You can read up on more of these stories in our testimonials section. And if you are considering giving the test yourself, you can schedule one for yourself now.