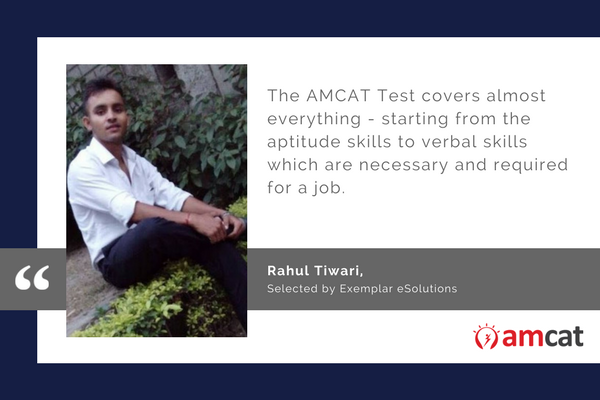 Looking for a job? Job seeker, on the great job search journey, you might be facing two common fears – not getting job offers OR landing with a fraud offer or a fraud company. Relax. That is one thing which won't happen with the AMCAT Test, according to our achiever of the day, Rahul Tiwari.
Tiwari, a books and movies aficionado, recently cracked a marketing job after clearing the AMCAT Test. Slated to join Exemplar eSolutions as a marketing executive, he talks about the two things he was looking for and how the AMCAT Test fared on those counts.
Tiwari's Job Search Saga:
Tiwari had been looking for a decent job after college – a fresher job with a good profile. However, things were not as easy as he had hoped they would be.
"Nowadays, searching for a job and landing in a genuine company with a good profile is quite difficult. There are many fraud companies in the market who try to cheat job seekers and benefit from their plight."
For Tiwari, this became the reason why he decided to opt for the AMCAT Test.
Preparing for the AMCAT Test:
Calling it a 'wonderful experience', Rahul felt that the skill assessment test covered everything that a candidate needs to showcase themselves during their job search. "It covers almost everything – starting from the aptitude skills to verbal skills which are necessary and required for a job."
His preparation was a sound strategy as well. "(You need to) plan your syllabus and practice those problems where you feel you are weak." He particularly recommends focusing on the basics.
Interviews after the AMCAT:
Tiwari did not have to wait for long after giving the AMCAT Test. He received his first interview call within 2-3 weeks.
AMCAT provided MANY opportunities from reputed companies.
And then he received the interview call for Exemplar eSolutions. Based on his experience there, he calls interviews easy, provided you are prepared for them. "You just need to sharpen your skills and focus on them. Besides this, the prominent thing about the company is that it should be genuine which AMCAT insures."
In the end, Rahul recommends the AMCAT, calling it a much-needed career boost. "The AMCAT Test assures the quality and allow you to appear for a genuine company."
Congratulations, Rahul for making it through to a logical conclusion on your job search journey.We hope his experience helps you consider a similar trajectory and schedule an AMCAT Test today.