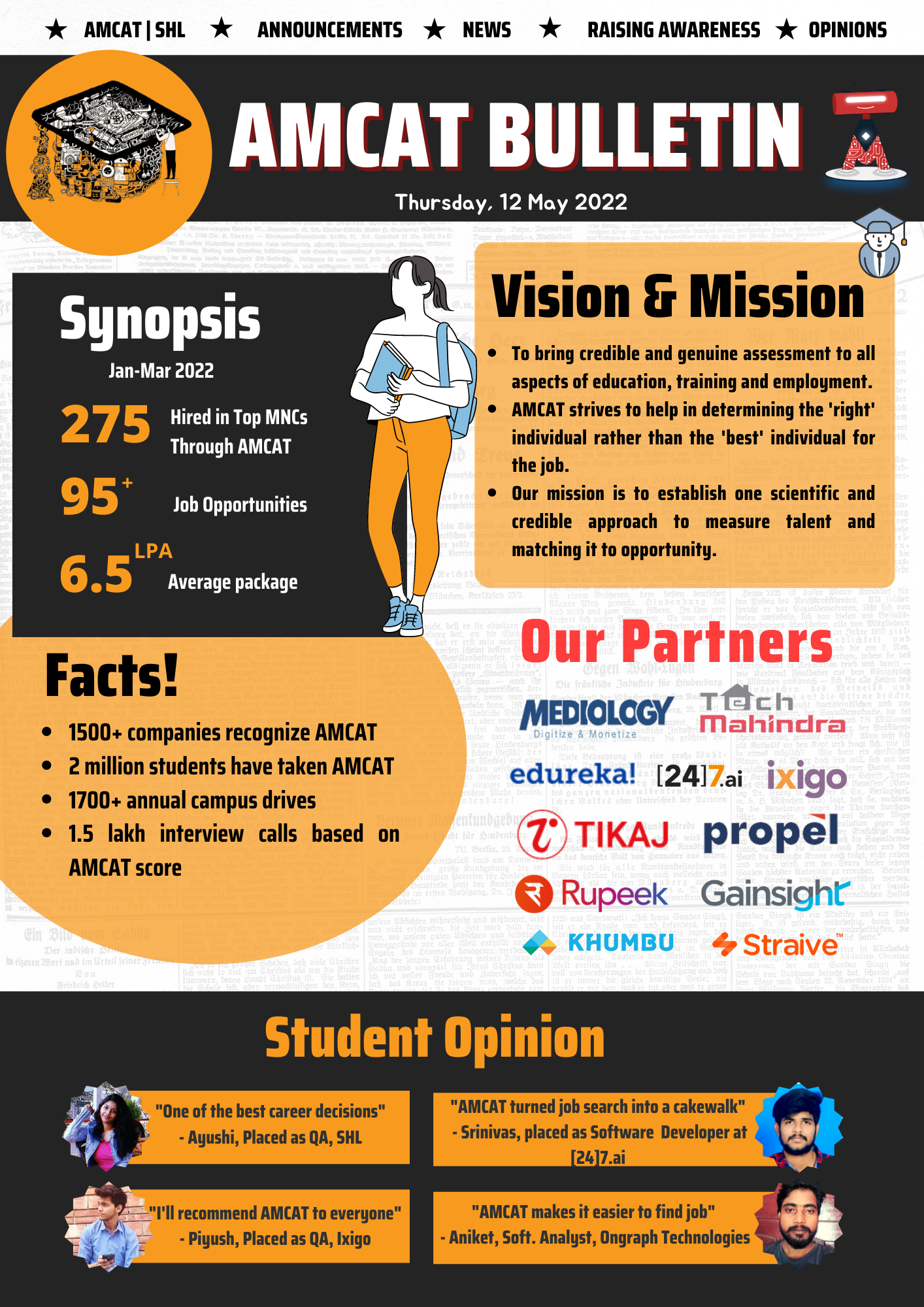 Any guesses what is happening this month? Hold on to your regular day-to-day activities, because we have something new that you would absolutely find exciting!
AMCAT is introducing its first-ever newsletter – "AMCAT Bulletin" today!
We are very excited to launch this newsletter which will inform and inspire you on a monthly basis, it will keep you up to date on current and upcoming AMCAT events.
But before starting off, let us talk about AMCAT and what it is?
Many people switch their careers after graduating and work in a totally non-relatable field. This is where AMCAT comes in handy. It recommends students to hiring managers based on their domain skills, performance, and cut-off scores in the test.
AMCAT is a self-evaluation test that assesses you in areas such as logical reasoning, quantitative abilities, communication, and work-specific domain skills. If you are interested and would like to register yourself for the AMCAT exam, you can do that using the below link.
Register for AMCAT | India's Leading Fresher's Assessment and Job Site (myamcat.com)
Let us tell you about some of the highlights which will be a part of our monthly newsletter:
Understand why AMCAT is important in today's world and why you should trust it.
Some facts about AMCAT, Its vision, and mission.
Our achievements, important announcements, updates, and campaigns which we wish to be starting in the coming months.
Read the success stories of our high achievers to know how they achieved their career goals by having faith in AMCAT.
Read informative blogs that usually talk around the lines related to career, interview preparation, and decision-making skills that you must have.
Our aim is to provide our readers with something that is open, honest, and useful. We hope, one day you may write your own success story with AMCAT.