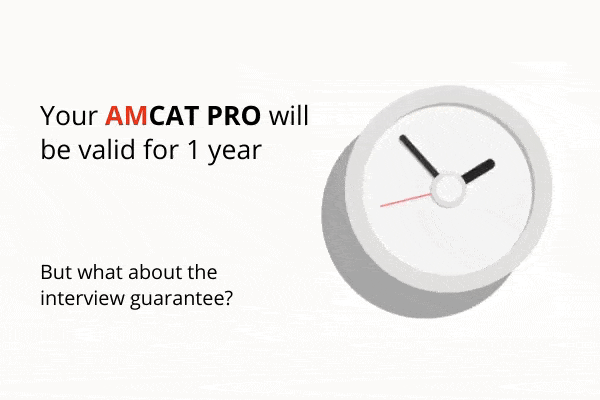 AMCAT PRO: The Interview Assurance Program by AMCAT comes with a guarantee of minimum three interviews in three months basis your AMCAT PRO score. And, if we are unable to deliver on that promise, then you will get your money back.
However, a 'within three months' guarantee doesn't mean your AMCAT PRO score is valid for just three months.
How long is your AMCAT PRO score valid?
Your score will be valid for a year after giving the AMCAT PRO exam. That means, you can apply for jobs on the AMCAT jobs portal or enjoy opportunities basis your AMCAT score for a whole year.
In the meantime, we will also send you the top opportunities available on the AMCAT portal for you to apply in.
However, the interview guarantee by AMCAT PRO is valid only for three months. Within these three months, our team of experts will search for the best opportunities available for you basis your score from across the country and send them to you. We will also get you a minimum of three interview offers and if we fail to deliver, then you will get your money back.
AMCAT PRO score breakup
As we have already mentioned, the guaranteed interview calls that you will get will be basis your AMCAT PRO score. Depending on how much you score across all modules, you will qualify for either Gold, Silver or Bronze membership.

To qualify for Gold membership and get the highest paying jobs, you need to score 500+ across all modules, both compulsory and optional and at least 46 in Automata Fix if you have opted for it. If you score fewer marks in any of the modules, then your lowest score will determine the membership you qualify for.
For example, you score 450+ in three out of four modules and 400 marks in one, then you will qualify for Bronze membership. Similarly, if you score less than 400 marks in any of the modules and less than 16 in Automata Fix, then you won't be eligible for this interview assurance program. That means, no guaranteed interviews and no money back either. So, ensure that you score well in all the modules of the AMCAT exam.
Your AMCAT PRO score can fetch you the best interview offers, given that you have scored well. And, while you will get the guaranteed interviews within three months of giving the exam, your score will be valid for a year. So, score well and enjoy the tons of opportunities that are going to come your way right now.
P.S: In case of any doubts or queries, feel free to drop your thoughts in the comments section below.