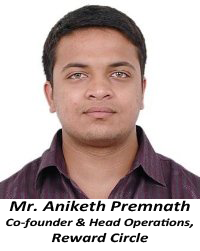 'AMCAT Employability Dialogue' conducted on 17th January 2014 saw many students interacting with Mr. Aniketh Premnath (Co-founder & Head Operations, Reward Circle). Students took this opportunity to ask our guest about the expectations of the industry from the candidates they are looking to hire. Students also took the career guidance from Mr. Aniketh and got valuable tips/suggestions which would help them develop a fine professional career.
Missed the chance of participating in the chat session? Don't worry, here's the transcipt of the chat:
————————————————————————-
Moderator: Welcome to 'AMCAT Employability Dialogue' with Mr. Aniketh Premnath, Founder & Head of Operations, Reward Circle. Today's topic of discussion is "Technical Vs Non-Technical Jobs". Mr. Aniketh will join us shortly. Meanwhile, you can ask questions related to the topic which will be moderated and sent to our guest to answer.
Prahlaad: Could you please let us know your views about specializing in a certain area and then working in another? For e.g. Electronics engineers working in IT companies.
Answer: Most of the time people end up taking up jobs for financial stability and not for passion. I feel that if one discovers their passion, they should shift even if its going to cost them some time.
Arun: what questions are actually the driving aspects in an interview, in a technical job that is?
Answer: In a technical job most of the questions are related to your Hard skills/technical ability and not your soft skills. Though having soft skills would also help in a technical job.
Vishal: Sir I'm an aspiring entrepreneur, as a founder of a young company what would you suggest to aspiring entrepreneurs like me who want to setup a business/company of their own someday? What should be our short/long term goals?
Answer: That's great. The first thing is to be sure what field you want to get into. A lot of market research would take you a long way. Goals would vary from person to person and from the various kinds of businesses that exist. So that is up to you and your Vision. Sky is the limit.
Kanhaiya: Respected sir, why the MNCs reject the candidate on the basis of criteria? I don't think it's a best of short listing best candidate. Please give your valuable view on this
Answer: I do agree that it is not the best option but time is money and one would not like to waste their time to find that small percentage of people who are eligible in the list of candidates that have not been shortlisted
Saket: I am a B.Tech graduate and am waiting for my joining. It's been over 8 months since I graduated. I was placed on campus. Being a technical post (software engineer), will this long gap be detrimental in future?
Answer: Not at all. You are a fresher and have a long way to go. This most definitely not affect you future.
Manjeet: What is the career growth for a technical person in a non-technical role? Can you cite some examples of people from your own company (if any)?
Answer: It is easy for a technical person to do a non technical job as long as he has good soft skills, which is the most important skill required for non technical jobs. Coming to growth, I feel that there is more growth potential in a non technical job.
Arghya: What does the employer search in fresher during the interview session..?
Answer: The most important quality is the attitude of the candidate. If he is willing to learn. It would be easier to mould a fresher when he/she has the right attitude
Vivek: Good evening, Sir. I would like to hear your view about a number of questions that I have in my mind. First, What do interviewers basically look for in candidates for "Technical jobs"? Even after having to go through rigorous interview/evaluation procedure, freshers like us are made to undergo training then, and then the subsequent allocation of project can be on a different technology depending on the vacancy & requirement. So basically, what is the purpose of making the technical round of interviews so stringent?
Answer: For technical jobs, your hard skills or technical skills and knowledge are the most important. If you have a strong foundation on work on. Because once you have the basic knowledge they would improvise on that making you useful for the specific task that you would be required to do.
Priyanka: I'm a BA (Eng) graduate but am interested in pursuing a career in the IT industry. So what are the prospects of a person with no formal technical education working in a technical role? Should I undergo any particular certification courses?
Answer: It depends in which department you want to get into, if it's for a non technical role a certification is not required but would help you to understand and to grow faster.
Ankit: How is Reward circle different from other startups in the market? What is the key difference between the training program of a startup and a MNC?
Answer: We are structurally a flat organization where we love to provide the opportunity for our employees to experiment with their ideas and opinions. Here at Reward Circle We don't really have a training program, Its more of a on the job training.
Vinay: What challenges did you face while setting up your company Reward Circle?
Answer: Every day has been a challenge. We face challenges in every department. Being a start-up we lack in man power where one person might end up doing multiple jobs. A few of the other challenges are getting big Clients on board when you don't have a very large company profile. But it's the best part of working in a start up because you get to learn that much more and you develop a sense of confidence that can take you anywhere in the future.
Moderator: Now we would like to request Mr. Aniketh to share his closing comments with us and give some last minute tips to job seekers!
Mr. Aniketh Premnath: The Most Important quality that one should have in general is Self confidence and determination. Only once you believe in yourself can others believe in you.
Moderator: Thank you everyone for joining this session. We hope that this session was useful for you. We also thank Mr. Aniketh Premnath for taking time out of his busy schedule & joining us in this session. Have a nice day!
Mr. Aniketh Premnath: With that I would like to thank everyone and wish you all the best in your future endeavors.
 ————————————————————————-