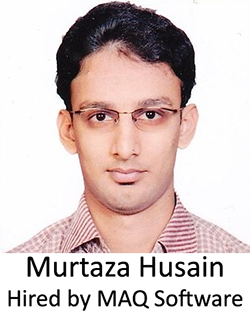 Aspiring Minds: Tell us something about yourself and your career goals.
Murtuza: I am a very self-motivated person and believe in 'not giving up easily'. I am of the strong believer of the quote "It's not over till it's over".  I come from a family who does not have any person in the IT field from the past 3 generations. Did my MCA from Vellore Institute of Technology. My career goal is to see myself ranked on a high designation in a span of next 10 years. I want to be in the field of .NET and Microsoft technologies.
Aspiring Minds: What difficulties did you face while searching for a job and how did you overcame those difficulties?
Murtuza: I got many job offers as a fresher even though holding an experience of 1.5 years. Service based companies mostly don't regard this much experience even though they are very much ready to induce you in their teams along with other fresher's.
Aspiring Minds: Tell us about your experience post giving the AMCAT test and how AMCAT helped you in getting the job at MAQ Softwares?
Murtuza: It was pretty tough going through 4 rounds of technical interviews and waiting for the results every time. It takes a lot of patience and courage to overcome the anxiety.
Aspiring Minds: Would you suggest other job seekers to take AMCAT? If yes, why
Murtuza: Yes Surely. The name itself is ASPIRING MINDS, So if you are a career conscious person, one should never miss out on any opportunity.
Aspiring Minds: Would you like to share some tips which can help other job seekers in getting a good job?
Murtuza: Whatever free time you get, utilize it to grow yourself technically and if possible practice spoken English at a very early stage of your career. 50% of the interviews are over even when they haven't started due to weak communication skills. It is also about having a good personality and an optimum level of confidence.
Murtaza Husain, Vellore Institute Of Technology, 2012 Batch
Hired by MAQ Software
Are you still waiting for your dream job? Take AMCAT and get closer to your dream job!
Click here to book your test slot today!