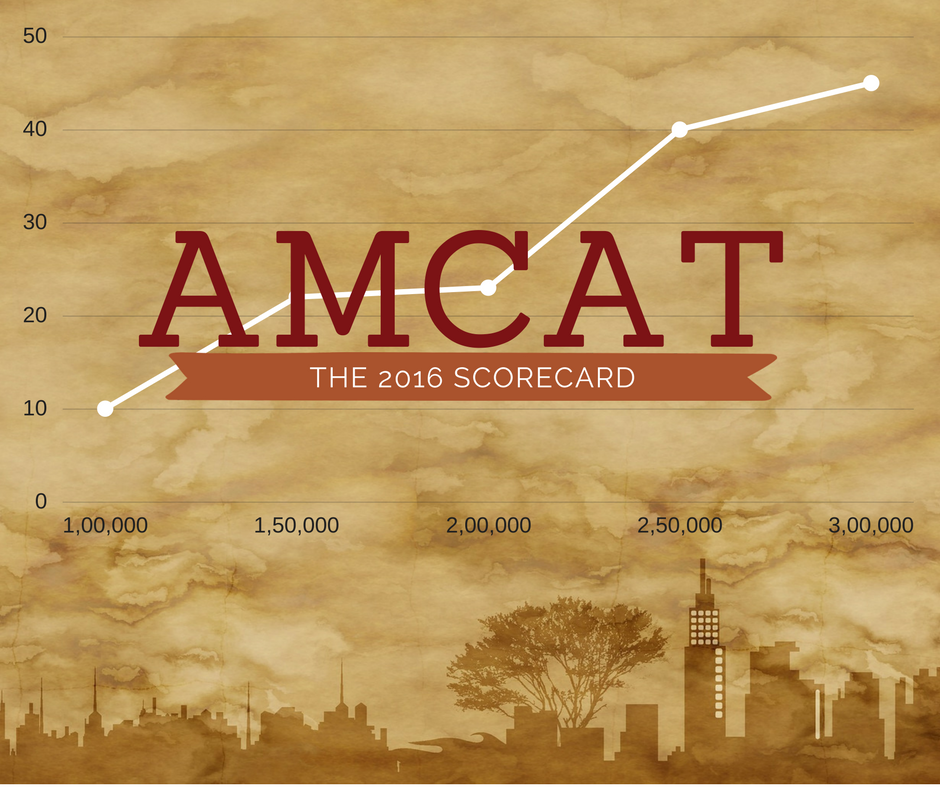 When opportunity creates a door, it's your duty to lift the latch and walk right in…
That's how the world works – and has worked for all those who successfully cleared the AMCAT test and bagged their desired fresher jobs in our bank of offerings.  And with the 2016 AMCAT report card, we are carefully drawing linkages over how the portal has fared in terms of jobs offered, median salaries, top jobs in demand (city wise) and maximum applicants who have successfully bagged their dream jobs.
Overview: AMCAT in 2016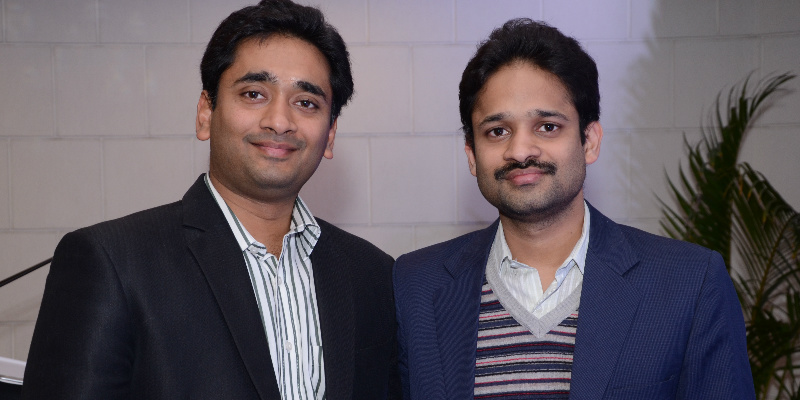 Aspiring Minds, the brains behind the AMCAT test began the year on a high, with a new acquisition (LetsIntern) and plans to seamlessly synergise the efforts on AMCAT with the internship platform. This allowed us to connect the data from the two platforms together and provide a complete career solution for all college students. It helps those stepping into the workplace (interns) and those looking for career and skill assessment aids (AMCAT).
Our skill assessment module, which scores students as per their aptitude, domain, quantitative and logical profile – has been taken by nearly 4 lakh students this year, an increase of 12 percent over 2015. These assessed candidates reach the job market through more than 6,000 exclusive opportunities from recruiters on our portal.
In total, the opportunities invited over 40 lakh applications from our existing set of assessed candidates (based on the number of applications these jobs received).
Searching for the right fit:

So, you have scheduled an AMCAT, given the test, received your scores and overall assessment – what's next? Searching for appropriate roles – or waiting for relevant calls. And this is where a product like AMCAT comes into play.
AMCAT 2016 High demand job profiles: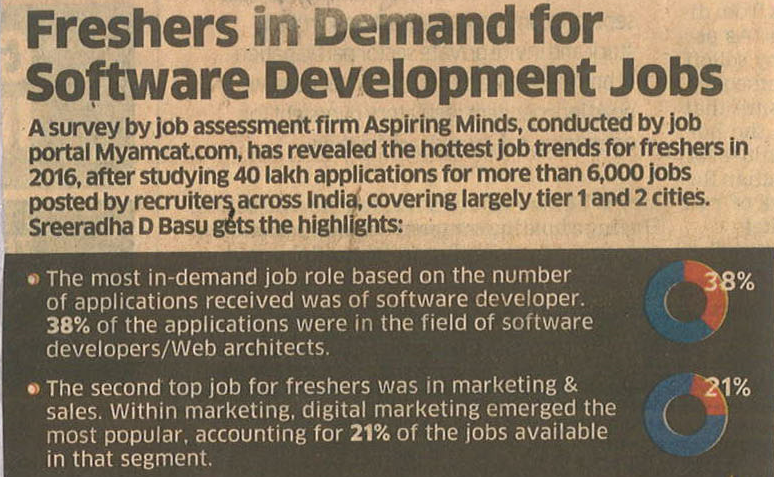 AMCAT has maintained its hold in the field of IT jobs, with a consistent stream of job postings and applications for tech roles. Software engineers, developers, architects, full stack developers and testers have ranked high – in fact, the most in-demand role remained software developers, accounting for 38 percent of total applications received. The find, which was also published in Economic Times today, underlines the need for development across all sectors.
Meanwhile, in terms of availability, conventional IT roles accounted for 17 percent of all fresher job opportunities given by recruiters on our portal.
The next large chunk has been towards marketing and sales position. While the sector is traditionally perceived as the most welcome one towards freshers; newer agencies and the increasing awareness towards the importance of digital marketing has led to an increase in demand for freshers as social media executives, digital marketing interns, content developers and the like.
Most applications were received for digital marketing roles – nearly 21 percent. On the other end of the spectrum, positions for digital marketing professionals are still very minuscule as compared to the demand, barely 1 percent of all opportunities posted exclusively to the portal.
The biggest surprise this year were data science positions, which clocked a growth of 30 per cent (year on year) in terms of job postings for Data Analyst, Data Scientist and Data Engineer.
AMCAT 2016: City-wise breakup: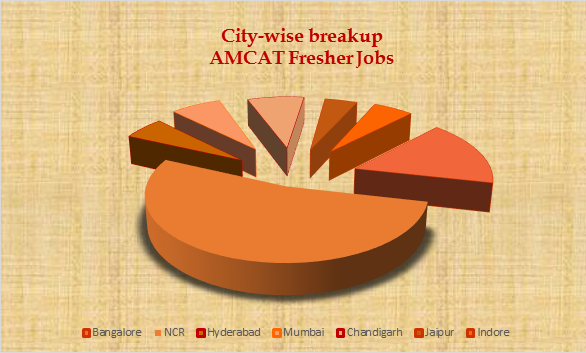 True to its commitment of bringing TIER 2 and TIER 3 city candidates with positions in major metropolises, most of the AMCAT fresher job opportunities this year were from the NCR region, Mumbai and suburban areas amid others.
In terms of numbers, NCR leads as the premiere hub of opportunities – with over 40 per cent of all vacancies. Gurgaon, Noida, Greater Noida provide a significant number from these, while Faridabad lags behind.
The second big chunk of opportunities comes from Bangalore, accounting for 12.6% of the pie, while Chandigarh takes the third spot. Mumbai is a distant fourth. Fast emerging TIER 2 centres like Indore and Hyderabad complete the list of top six job centres. Surprisingly, Chennai and Kolkata have not increased in ambit as job providers to freshers, based on the pan-India data for our portal.
AMCAT 2016 – The compensation element: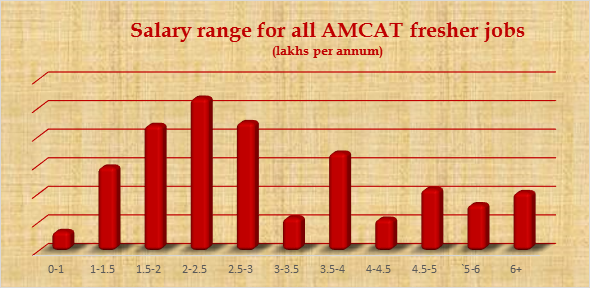 Even with the bend towards IT jobs and TIER 1 cities, recruiters who use our database of students and job aspirants, offer salaries worth Rs 2 – Rs 3 lakh per annum to our candidates.
What's surprising is that the range of salary packages in the higher band have risen exponentially from 2015 to 2016. This year, the number of jobs with a salary band of Rs 6 lakh and above has increased by about 85 percent, a factor cited even in the Business Standard and NDTV.
Future Forecast – AMCAT in 2017
So, what does 2017 hold for AMCAT aspirants and fresher employment trends in India?
First – as companies continue to invest in developing the right fit human capital, more will turn towards skill assessment modules like the AMCAT, than rely only on resumes or those coming from TIER 1, top-end colleges.
Second – students are realising the large-scale potential of these skill assessment modules. As more and more give employability-oriented aptitude tests to get a chance to understand their strengths and weaknesses – and maximise their chances.
So, it remains the right to see how you can fit the AMCAT assessment into your career plans for 2017. What do you think?