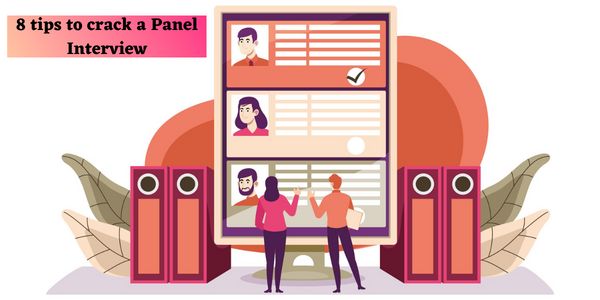 Panel interviews give interviewers the chance to see how potential candidates behave under stress, which helps organizations simplify their recruitment process. This article will help you be ready for a panel interview and the thought of being grilled by a crowd.
Imagine the anxiety you would have if a prospective employer told you that you would be meeting with not just one, but four people at once, and that too at the same time! Let us help you out with how you can handle such situations, by talking more about Panel Interviews.
What Is a Panel Interview?
A panel interview has more than one interviewer which constitutes the panel. The panel can have your immediate potential supervisor, people from the human resource department, or any other decision-maker. A panel interview is cost-effective for the company as it reduces the need for multiple interviews. All the interviewers are present at the same time and each interviewer has a chance to ask questions to the candidate.
How to prepare for a Panel Interview for a job?
1. Research the panel interview process
This is the first thing to prepare for a panel interview process. A panel interview is different from a standard interview in a way that a panel interview has more than one interviewer. The candidate is generally more nervous when appearing for a panel round but the key to success is to do effective preparation which among other things includes preparing for questions that can be asked and learning about the hiring company's history and present. You'll feel less anxious and perform better if you are more prepared.
2. Know with whom you'll be meeting
After you get the meeting invite with the names of panel interviewers, study their profiles to understand their job titles, years of experience with the company and overall work experience, educational background, or accomplishments. These details can be available on their social media handle. Researching about panelists will help you estimate the questions they can ask, and you can also rather ask any questions to them towards the end of the interview relating to their accomplishments and work experience which will make a more personal connection with the interviewer and even the panelists will appreciate the homework you have done.
3. Research the company and the interviewers
Do a good amount of research on not only interviewers but also on hiring organizations. Go through the company website to understand in detail what products or services the company provides and in which geographical regions it operates. The website will also reflect the vision and mission statement of the company. You can also study the company profile on LinkedIn to identify the year of incorporation, current number of employee strength, recent percentage of employees hired, and average median tenure of employees with the company.
4. Prepare for common questions
The questions in a panel interview are fired from multiple people together which gives you lesser response time. It is therefore advisable to prepare the technical and behavioural questions in advance of the interview.
5. Make eye contact with your panelists
Treat all the interviewers in the room equally. While responding to questions, make eye contact with not only the person who asked the questions but also with other interviewers present in the room. This engages the entire panel and shows your capability of working with multiple people together.
6. Expect interruptions and stay calm
Panel interviews are fast paced with multiple interviewers asking questions to a single candidate. There can always be counter-questions coming your way even before you have finished speaking. Your answer to one question can lead to a counter-question from another interviewer. Remember to not lose your calm in these situations and always politely request the panel to let them complete your response.
7. Be ready to ask questions at the end of the interview
Not asking questions at the end can leave an impression that the candidate is not interested in the company. There cannot be a situation where you do not have even a single follow-up question for the panel. When you research the panel and the company, prepare a couple of questions that show you are interested in knowing more about the role or company and also show your time spent preparing for the interview.
8. Don't hesitate to ask for clarification or reiteration if needed
At any time during the interview, feel confident to ask for clarifications from the panel.
Common Panel Interview Questions
Here is a list of common panel interview questions that you can prepare for:
Why should we hire you?
Why do you want to work for our company?
How would a colleague describe you?
How well do you perform under tight work deadlines?
How will you handle a dispute within the team?
Tell us about a situation in the past where you had a disagreement with your leader and how you handled the situation?
Tell us about a situation in the past where you identified an improvement in process or work environment?
Let us tell you one thing once you understand the fundamentals of panel interviews, you can handle any interview with professionalism and grace, despite the fact that many interviewees compare them to confronting a firing squad. Now that you've got through the firing squad, don't forget to follow up with the panelists to indicate how excited you are about the job and to find out when you may receive updates on the recruiting process.
FAQs:
Q1. Are panel interviews fair?
Ans. Panel discussions are rarely fair and unbiased. As with any discussion that includes a committee, a mediator is typically required to facilitate an impartial decision-making process.
Q2. Should I shake hands during a panel interview?
Ans. Shake hands with everyone in the room, make eye contact, and try to use their names as you do so. If possible, make a quick stop outside the office to express your gratitude to the person who welcomed you or led you into the interview room.
Q3. How to greet the interview panel?
Ans. Introduce yourself and shake hands firmly with the person conducting your interview. Be ready to engage in some small conversation, but don't go overboard. Observe your interviewer's signs and allow them to direct the conversation's course.