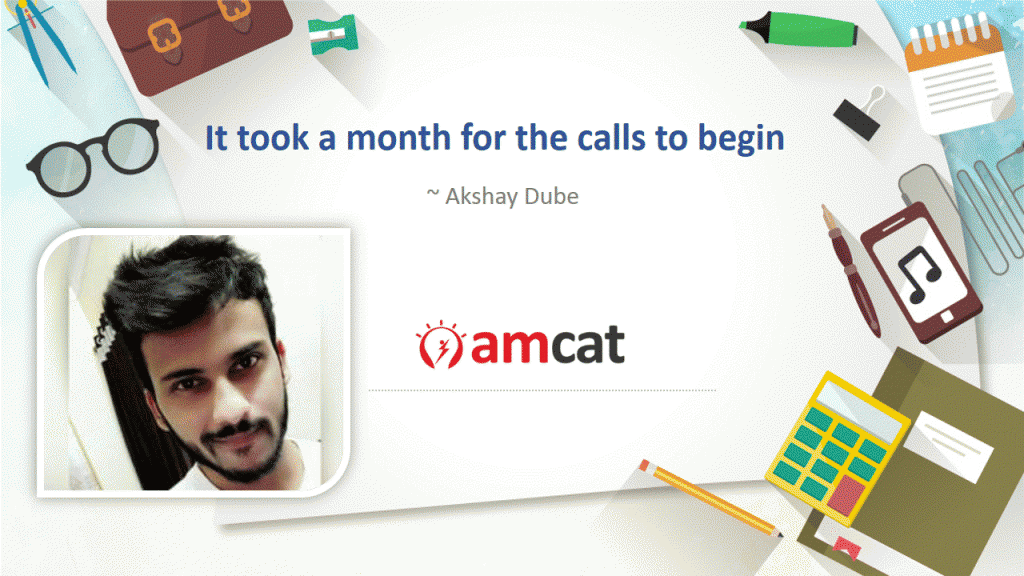 'I was shortlisted for a direct interview based upon my AMCAT scores', shares AMCAT achiever Nagpur-based Akshay Dube. Dube, a graduate from 2016, was hired by Accenture last year after he cleared his AMCAT test.
Don't believe us? Hear what Akshay has to say:
In 2016, this graduate in B.E Electronics from Shri Ramdeobaba College of Engineering and Management (RCOEM), was looking for the basics – a good job in a reputed software company. He concedes that this was not at all an easy task. "I wasn't eligible in many companies which visited my college campus for placements because I had low grades in academics."
The picture was marginally better after his graduation. "I managed to score respectable grades to appear for any recruitment process." Yet, the job search did not become an easy process. And this continued even a month after he took the AMCAT test – that's when he got his first call after it.
"Within 2 days I got my feedback report regarding my performance in each section." He built on his strengths and improved on the areas pointed in it – building towards the calls.
And who called on him? "I got many interview calls from some top companies like Accenture and from some of the start-ups as well", said Dube.
Keen on similar Accenture jobs for yourself? Then, what should you do? "I would suggest every fresher who is seeking jobs in an IT sector or marketing sector to take AMCAT as it is a great platform to fetch your dream job easily. Focus on improving your communication skills and prepare well for the interview".
Akshay Dube's story is one of the many which come back to us from students who made it big, courtesy the AMCAT test. We invite you to read up on more of these stories in our achievers' diary section. And if you're keen, then consider registering for the AMCAT and scheduling an AMCAT test, soon.