AMCAT exam is a tailormade solution for all your professional problems. Getting the first job is a milestone for freshers. Due to the pandemic, it became a hassle for many to find a suitable work opportunity.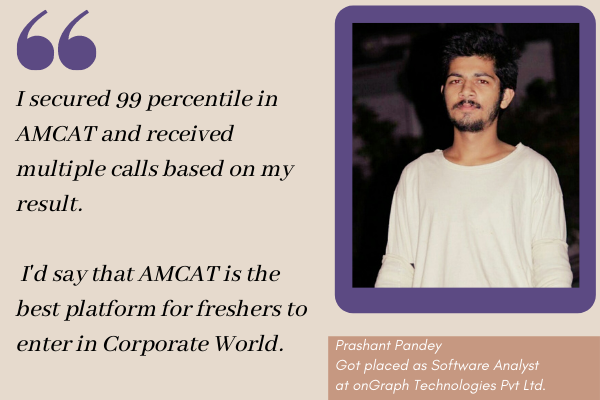 There is another tussle undergone by aspirants. Usually, students at third-tier colleges struggle in finding a high paying job and decent role while starting.
Our candidate, Prashant Pandey faced a similar situation. That is when he took the AMCAT exam after being suggested by his seniors.
He exhibited outstanding performance and secured a 99 percentile in his assessment.
Scroll down below to read his story.
Q1. Why did you opt for the AMCAT exam for your first job?
"Honestly, I was from 3rd tier college. Henceforth chances of on-campus placement were bleak. After encouragement from my seniors, I applied for AMCAT right away. I thank them for suggesting such a wonderful tool during the time I was struggling to get a head start on my career."
Click Here to register for AMCAT. 
Q2. Did you face any difficulties while looking for a job?
No. I would say that my overall experience was smooth sailing. I appreciate the AMCAT interface and transparent assistance.
Q3. Tell us about the job you got through the AMCAT exam and other offers and interview calls you received through it.
"I secured 99 percentile in AMCAT and received multiple calls based on my result.", Prashant said.
"Finally, I have decided to go for the role of Software Analyst at the company onGraph Technologies Pvt Ltd."
"I also got calls from 75way Technologies Pvt. Ltd. There were many other options. Therefore, I am grateful that this exam could open me to numerous options that were once a dream."
Click Here to register for AMCAT. 
Q4. How did AMCAT exam feedback report help you assess your performance?
He explained, "The feedback report extended unprecedented support in spotting my strengths and weaknesses towards the job search process. The transparency throughout the assessment is an appreciable point. No answer goes unaddressed. You are given a report of your competence."
"These details usually go unaddressed leaving the candidate go haywire. I, therefore, appreciate this tool for stretching the extra mile to make it possible for the aspirants.
Do you want to assess yourself?", Prashant added.
Click Here to register for AMCAT. 
Q5. Would you recommend the AMCAT exam to others?  And Why?
"Yes. definitely. It is the best platform for freshers to enter in Corporate World. It also provides many companies interview invitation." concluded Prashant.
Do you want to embark on your corporate journey as Prashant?
Click Here to book your AMCAT slot.
All the best
Get in touch!