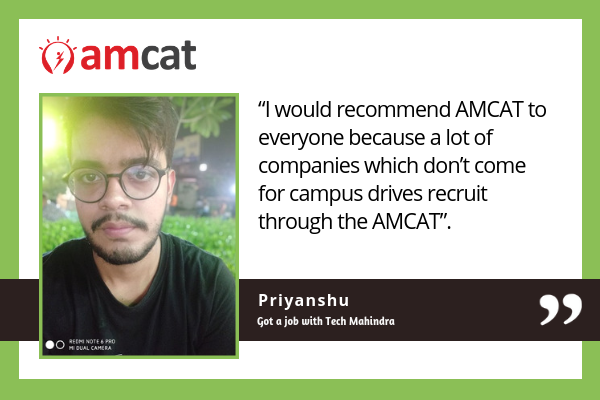 Every year thousands of candidates take the AMCAT exam in the hope of getting a job with a reputed company and a good salary package. One such test taker is Priyanshu who was successful in bagging the opportunity to work with Tech Mahindra.
So let us walk you through Priyanshu's journey with the AMCAT exam and his experience with the same.
Why did you opt for the AMCAT exam? And how was your experience?
"I opted for AMCAT because a lot of companies such as UBER, Cognizant, and many more recruit through it".
Companies like Tech Mahindra, Yamaha etc. recruit students through AMCAT. The reason being, these companies value the skill-set of the candidates as much as their theoretical knowledge. Hence, they want AMCAT credential.
"My experience with AMCAT was good".
Well, we are very happy that your experience with AMCAT was fulfilling.
What about the AMCAT feedback report? Was it helpful for you?
The AMCAT feedback report is specially designed to make it easy for the candidates to realize the areas where they lack while also, simultaneously helping them improve their chances of bagging their dream job. When asked Priyanshu says, "The feedback report was helpful".
We are happy that the feedback report was of your use and helped you in getting the job of your dreams.
Would you recommend the AMCAT exam to others?
"I would recommend AMCAT to my friends and juniors because a lot of companies which don't come for campus drives recruit through the AMCAT."
Many renowned companies recruit exclusively through AMCAT for different job roles. By giving AMCAT, Priyanshu widened his sphere and his chances of getting a job manifold.
Many candidates like Priyanshu opt for AMCAT to get more job opportunities and more options to choose from. AMCAT is a skill-based exam. Hence, when it comes to finding good job opportunities, a good AMCAT score can go a long way.
So, book your AMCAT exam right away.