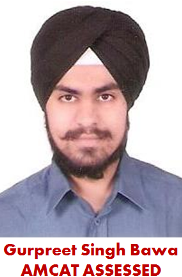 Aspiring Minds: Congratulations on securing your first job through AMCAT. How does it feel to get placed at Snapdeal?
Gurpreet: It feels great! I had always wanted to work in an IT firm and here I am – working at Snapdeal as a Quality Assurance Engineer . It's like a dream come true!
Aspiring Minds: How did you get to know about AMCAT? How has it helped you in your job search?
Gurpreet: I appeared for the AMCAT during the pre-final year, it was conducted at our campus. I got good AMCAT scores and was confident that I shall certainly get interview calls through Aspiring Minds. As the final year approached, we'd started getting opportunities. I think it's a simple funda – just get a good AMCAT score and opportunities shall come your way.
Aspiring Minds: Tell us something about your interview experience. What was your reaction on getting selected at Snapdeal?
Gurpreet: The selection procedure comprised of a written round followed by an H.R interview. JAVA & C++ have been my favourite subjects and I was confident enough that I would be able to crack the written round. Finally those who were selected for the written round had to appear for an H.R interview. When the results were finally announced, I was relieved as the 4 years of hard work and dedication which I'd put up, finally gave results! I thanked the almighty and shared the news with my parents & friends.
Aspiring Minds: What lessons did you learn from your interview experience? Anything that you would like to share with the AMCAT takers.
Gurpreet: I think subject knowledge and communication skills are the most important competency skills which an employer would like to see in a candidate. Something for my fellow friends – you don't need to learn all the programming languages to impress an interviewer. Just be clear with the basics of the subjects that you've learnt during the 4 years of study.
Gurpreet Singh Bawa
Guru Tegh Bahadur Institute of Technology, 2012 Batch
Hired by Snapdeal
More than ten lakh students have taken AMCAT, each month more than 70,000 interview calls are given by companies based on AMCAT. 200+ companies recognize AMCAT and each month more than 60 new companies use AMCAT to recruit freshers.Visit http://www.myamcat.com to know more!