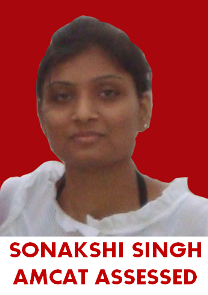 myAMCAT.com presents "The AMCAT Advantage"- a series of experiences shared by AMCAT-takers.
Sonakshi Singh shares…
Aspiring Minds has given us a great employment opportunity at the time when we needed the most. AMCAT tests the ability of students on various parameters which is the best criteria on which any company can judge a student's performance.
For me AMCAT is my lucky charm as I was selected in two great companies, & one of them is Sears IT & Management Services.
I will give whole credit to Aspiring Minds for providing me such great opportunities. Great work !
Sonakshi Singh
United College of Engineering & Research, Greater Noida
2012 Batch, Hired by Sears IT & Management Services
More than ten lakh students have taken AMCAT, each month more than 70,000 interview calls are given by companies based on AMCAT. 200+ companies recognize AMCAT and each month more than 60 new companies use AMCAT to recruit freshers.Visit http://www.myamcat.com to know more!