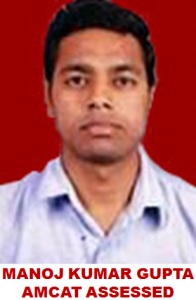 I feel very proud to be a part of this prestigious organisation and enjoying every moment with Sears.
I would take this oppurtunity to first thank AMCAT from the bottom of my heart for their splendid effort and hope them to scale new heights in the future.
The entire Drive conducted by AMCAT was very systematic and smooth. I sincerely wish that AMCAT grows and continues with its endeavours in shaping up the future of freshers…CHEERS & GOD BLESS!!!
I am very happy at my work place. It's like my dream has come true where I can explore my technical as well as managerial expertise.
At last one success mantra that I would like to give to my fellow aspirants is that "be confident what you speak , don't lie to an interviewer". They basically judge you on 2-3 parameters like your willingness, attitude towards work and how well you present yourself.
Manoj Kumar Gupta
JIET Group of Institutions, Jodhpur, Rajasthan
2011 Batch, Hired by Sears IT
More than ten lakh students have taken AMCAT, each month more than 70,000 interview calls are given by companies based on AMCAT. 200+ companies recognize AMCAT and each month more than 60 new companies use AMCAT to recruit freshers.Visit http://www.myamcat.com to know more!