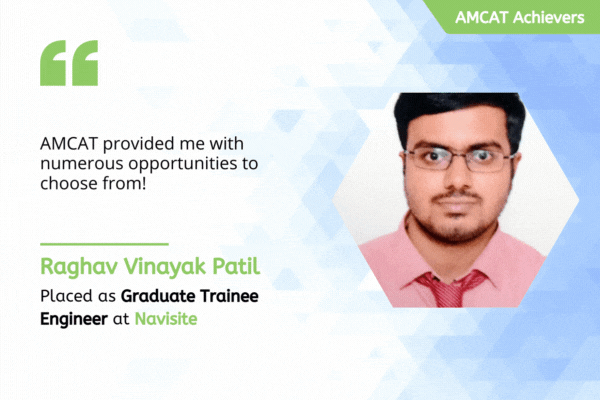 Giving the AMCAT exam was the best move I've ever made because it enabled me to determine my ideal career path. As a recent graduate, the process enabled me to land a fantastic job.
Do you want more information about his journey? To learn more about the same, keep reading.
What were your focus points when you started your job search?
"Raghav told us that he opted for AMCAT for 4 major reasons – bigger brands, better salaries, relevant job profiles, and job location."
Register for AMCAT | India's Leading Fresher's Assessment And Job Site (myamcat.com)
Tell us about your job role and the company where you got placed with the help of AMCAT?
"I got placed in Navisite as a Graduate Trainee Engineer, with the help of AMCAT."
How did AMCAT help you in getting this job?
"Raghav said, AMCAT is the best platform, for getting highlighted to recruiter."
While looking for a job, what all difficulties did you face?
"Luckily, I did not face any difficulty during the entire process, said Raghav."
How did the AMCAT feedback report help you assess your performance?
The feedback report is very well and properly organized one platform where a candidate can find everything about their weak and strong areas.
Will you tell others about AMCAT? Also, can you mention 3 main points that you liked about AMCAT?
"Yes, I'll definitely recommend AMCAT to everyone, especially to all the freshers.
The things which I liked about AMCAT are:
More job opportunities
Very convenient selection and recruitment process
Quick process of examinations and selection, concluded Raghav"
Please feel free to contact us if you have any questions.
We Wish Nothing But The Best For You!