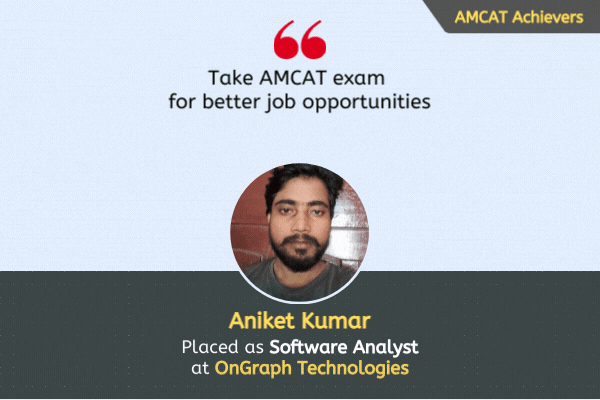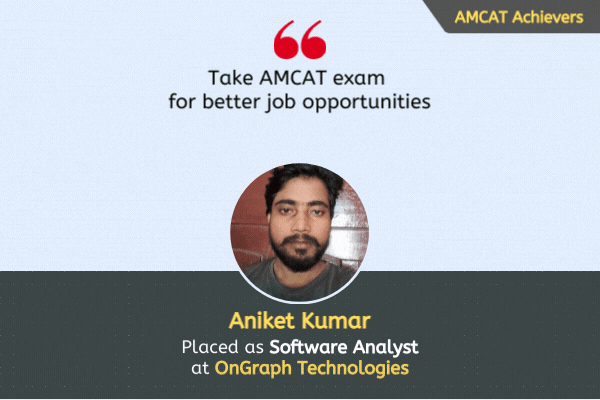 The AMCAT exam makes it look like finding a job is simple. AMCAT's adaptive test methodology is used by a wide range of companies, be it big or small. Are you wondering what makes the AMCAT exam so popular, and does it lead to decent career opportunities? Let's read Aniket's success story to figure out the answer to these questions.
What made you choose AMCAT?
Aniket told us that, "I opted for the AMCAT because many of my friends suggested it to me." Through AMCAT you can get job opportunities from multiple companies and for different job profiles based on your skill set.
Did you encounter any obstacles while hunting for job? Please provide more details.
"No, I did not face any difficulties while looking for a job."
Tell us about the job you acquired through AMCAT, as well as other employment offers, and interview calls you received through it.
"I got placed at OnGraph Technologies, as a Software Analyst with the help of AMCAT," said Aniket.
In what ways did the AMCAT feedback report assist you in evaluating your performance?
Aniket told, "Comprising of the test scores, the feedback report gave detailed feedback on my test performance. The action plan mentioned in the report helped me to find out the subject areas where I ranked high on employability so that I can focus accordingly for the interview preparation."
Would you tell others about AMCAT?
"Yes, I'll definitely recommend AMCAT to others."
Why do you think AMCAT is a good choice?
"AMCAT exam is more than an employability test, it is also, a test of skills and job readiness. Moreover, AMCAT helps you get a better understanding of both your weaknesses and strengths," concluded Aniket.
Aniket's achievement acts as a reminder that if you are sincerely committed to it, success is never far away.
If you have any queries, feel free to get in touch with us.
We Wish You All The Best!