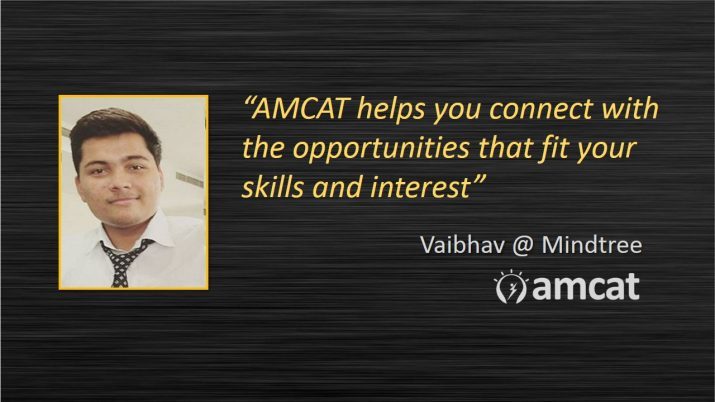 Getting a good fresher job in this tough job market? Quite a deal. Isn't it?
Meet Vaibhav, a fresh graduate from Pranveer Singh Institute of Technology and know how he managed to kick-start his career in the IT industry straight out of college.
Q: Tell us something about yourself and your career goals.
Hi, my name is Vaibhav. I am someone who believes in hard work. I am very particular about my goals in life and try my level best to achieve them. As far as my education is concerned I have completed B. Tech in CSE from PSIT, Kanpur. I am interested in coding and would like to work somewhere here I can enhance my coding skills. Apart from studies, I do have a great interest in sports like football, cricket, and badminton.
Q: What difficulties did you face while searching for a job and how did you overcome those difficulties?
The major problem that I faced during my job searching spree was that the opportunities that I was getting were not in accordance with my skills. I wrote the AMCAT and this problem didn't stay for long. It was able to connect me to opportunities that fit my skills and interest.
Q: How long did it take to get your 1st interview call after AMCAT?
As soon as I got my results. That would be around a week.

Q: Tell us about your experience post giving the AMCAT test and how AMCAT helped you in getting the job at MindTree Ltd.?
What an experience! The test conducted by AMCAT is a complete package, if you prepare well for the test, I am 100% sure that you will get the job in any company you want.
Q: How many interview calls did you get after taking the AMCAT?

I was busy with my college exams and preparation so I don't remember the actual count but I used to get approximate two interview calls in a week.
Q: Would you suggest other job seekers to take AMCAT? If yes, why.
As I mentioned above AMCAT is a complete package. The quality of questions that are asked in the test is of a great standard. The feedback report that the AMCAT team provides helps you know about your positives and negatives in depth. If you score well in the AMCAT test, you will definitely get the job that matches your skill-set.
Q: Would you like to share some tips which can help other job seekers in getting a good job?
"Confidence, Commitment and Patience" these are the three pillars on which your success depends. Work hard and focus on your core subjects and communications skills. All the best!
Vaibhav is not the only one, read more of our success stories and know how AMCAT helped them get their dream job.