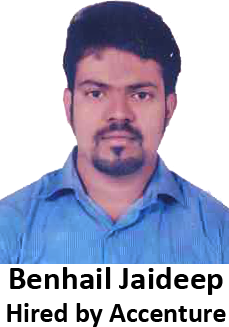 Aspiring Minds: Tell us something about yourself and your career goals.
Benhail Jaideep: My name is Benhail Jaideep and I have done my B.Tech from CVSR College of Engineering, Hyderabad. My short term goal is to work for a reputed MNC with ample exposure to all the domains of the industry. My Long term goal is to start up my own investment which encompasses all the MNC's by leaps and bounds, in monetary, domain expertise, client lists as well as figure in the fortune 100 and 500.
Aspiring Minds: What difficulties did you face while searching for a job and how did you overcame those difficulties?
Benhail Jaideep: My luck was very bad as recession had hit the industry severely when i took up my engineering. This trend continued till 2012 and even till my graduation none of the major corporate giants that are usually the students' favorites did not take up recruitments. A good score in AMCAT was the only way to bag a job. That's when it hit me to take AMCAT.
Aspiring Minds: Tell us about your experience post giving the AMCAT test and how AMCAT helped you in getting the job at Accenture?
Benhail Jaideep: To sum it in a single line, I would not have been able to even dream of setting foot at Accenture had it not been for AMCAT.
Aspiring Minds: Would you suggest other job seekers to take AMCAT? If yes, why
Benhail Jaideep: Definitely! The plethora of opportunities under one roof help you choose which company suits you the best!
Aspiring Minds: Would you like to share some tips which can help other job seekers in getting a good job?
Benhail Jaideep: Dedication and hard work are the only way to bag a prestigious job! Have patience as the right opportunity will definitely come knocking!
Benhail Jaideep, CVSR College of Engineering, 2013 Batch
Hired by Accenture