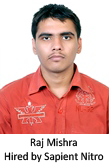 Aspiring Minds: Tell us something about yourself and your career goals.
Raj: I'm Raj and I'm From Delhi. I did my Engineering in Computer Science from Bangalore Institute of Technology Affiliated from VTU, Bangalore. I am seeking an Engineering position that provides challenging opportunities to utilize my knowledge of software as well as analytics, technical and managerial skills for career growth and uplift of the organization
Aspiring Minds: What difficulties did you face while searching for a job and how did you overcame those difficulties?
Raj: After not getting placement from college I started searching for off campus jobs. The first obstacle I encountered was not getting all the information at a centralized place, I had to spend lot of time searching and applying for jobs online. Keeping track of the responses was also not easy. I did not actually overcome these difficulties; I just organized my time so that I can spend some time online every day. I also subscribed on various websites so that I can get all the details in my mail and I just had to check my mail every day.
Aspiring Minds: Tell us about your experience post giving the AMCAT test and how AMCAT helped you in getting the job at Sapient Nitro?
Raj: After I took AMCAT test, Aspiring Minds did all the pre-interview work for me. They recommended various companies and I just had to attend the interviews. This way my focus was only on Preparation.
Aspiring Minds: What is your view about AMCAT Toppers Club and how beneficial it was to be an AMCAT Topper?
Raj: First of all I'm very proud to be in the AMCAT toppers club. And when I came to know that the job was exclusively for AMCAT toppers, the joy of getting selected got doubled.
Aspiring Minds: Would you suggest other job seekers to take AMCAT? If yes, why
Raj: Definitely, I will suggest all the job seekers to take AMCAT because here not only we get job requirements in a centralized way but also get various facilities such as what and how we can prepare for interviews, etc.
Aspiring Minds: Would you like to share some tips which can help other job seekers in getting a good job?
Raj: Be patient, prepare with every ounce of energy and give your best every time.
Raj Mishra, Bangalore Institute of Technology, 2013 Batch
Hired by Sapient Nitro