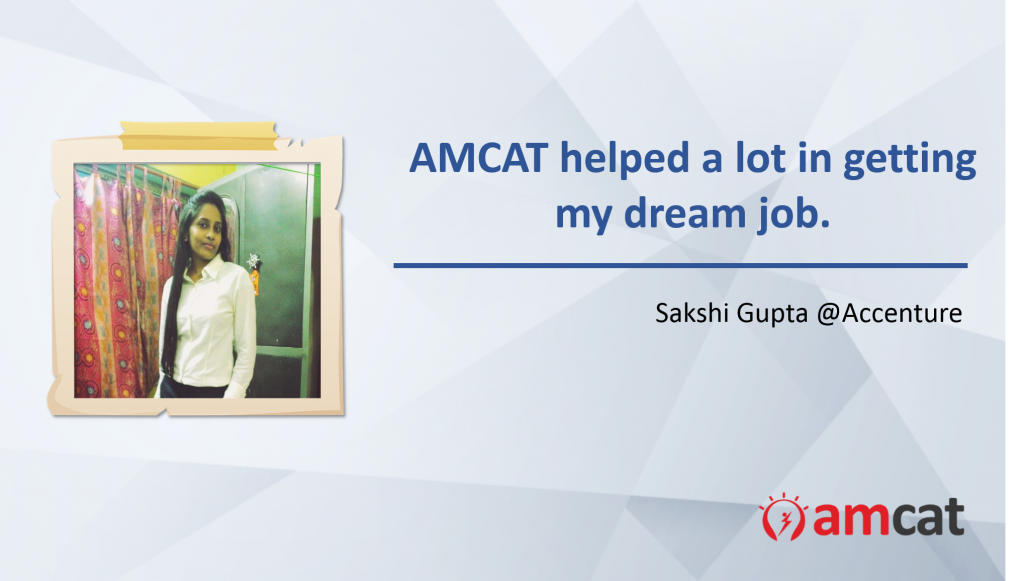 A good fresher job in an MNC right after engineering. Quite a deal. Don't you think so?
Well, meet Sakshi Gupta from Siliguri Institute of Technology and know how she managed to bag an opportunity with Accenture right after graduation.
Q: Tell us something about yourself and your career goals.
Hi, My name is Sakshi. I have done B.Tech in computer science and engineering. As a fresher, I always wanted to start my career in core software domain in a multinational company so that I could get ample opportunities to grow professionally and personally as an individual.
Q: What difficulties did you face while searching for a job and how did you overcome those difficulties?
Getting a good campus placement was the biggest hurdle that I faced. Since Accenture doesn't visit my college so AMCAT played an important role in providing me the opportunity to appear for my dream company.
Q: Tell us about your experience post giving the AMCAT test and how AMCAT helped you in getting the job at Accenture?
After taking AMCAT, I started getting calls for interviews almost every day but I was waiting for the right one and then got the call from Accenture. I want to thank AMCAT wholeheartedly for helping me in my job hunting spree.
Q: How many interview calls did you get after taking the AMCAT?

As I mentioned above I started getting interview calls from start-ups and MNC's almost on a daily basis. I got many calls. Kudos to AMCAT team!
Q: Would you suggest other job seekers to take AMCAT? If yes, why.
Yes, absolutely. AMCAT provides vast career prospects for freshers as well as experienced ones. And, most importantly, Don't waste your time waiting, take AMCAT as soon as possible for best results.
Q: Would you like to share some tips which can help other job seekers in getting a good job?
Prepare well for the aptitude and interview. Give your best in the AMCAT test and leave rest on the team AMCAT because they will provide you with the right opportunities.
Sakshi is not the only one – read how many aspirants landed their dream jobs through the AMCAT job opportunities platform or built on their results to get them.