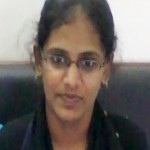 "There were many difficulties in getting the right opportunity. I got a good score in AMCAT and soon got an interview call from Mindtree"
Nandhini Priya, K.S.R. College of Engineering (2016 batch)
Aspiring Minds: Tell us something about yourself and your career goals.
Nandhini: My name is Nandhini Priya and currently, I am in my final year of B.Tech in CSE from K.S.R. College of Engineering. I want to work in a company where I can exhibit my talent.
Aspiring Minds: What difficulties did you face while searching for a job and how did you overcome those difficulties?
Nandhini: Even though I have talent, I did not get job opportunities easily. There were many difficulties in getting the right opportunity. I got a good score in AMCAT and due to this, the Mindtree interview call was a real treat to me.
Aspiring Minds: Tell us about your experience post giving the AMCAT test and how AMCAT helped you in getting the job at Mindtree?
Nandhini: Information given by AMCAT through out the process was awesome. There were regular emails and messages which helped me keep track of the opportunities and progress.
Aspiring Minds: Would you suggest other job seekers to take AMCAT? If yes, why?
Nandhini: Yes. If you want to get good opportunities, prepare well and take the AMCAT test. Put your best effort once and gain handful of job calls. Don't miss AMCAT.
Aspiring Minds: Would you like to share some tips which can help other job seekers in getting a good job?
Nandhini: Prepare well for the technical rounds. Don't be nervous. Just let recruiters know that you are trainable.