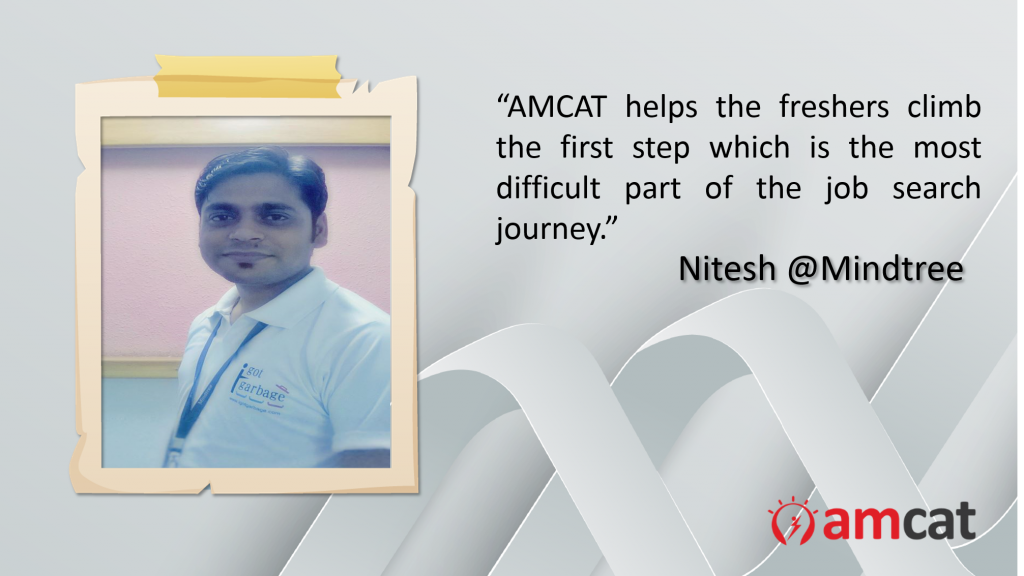 Isn't it tough to get a good fresher job right at the start of your career?
Hear out what Nitesh Kishore Kashi from Bhopal Institute of Technology & Science has to say about his job hunting journey and how the AMCAT test has helped him bag a job at Mindtree.
Q: Tell us something about yourself and your career goals.
My name is Nitesh Kishore Kashi. My goal is to learn & try something new every day. I want to join a company where I can enhance my knowledge and somewhere down the line join the top management of the company.
Q: What difficulties did you face while searching for a job and how did you overcome those difficulties?
While searching for a job I came to know that I was not prepared for aptitude test. I was weak in certain sections which I got to know after taking up the AMCAT test. So, I focused on strengthing my pain points and here I am now – an offer letter from Mindtree. AMCAT made my job at Mindtree possible.
Q: Tell us about your experience post giving the AMCAT test and how AMCAT helped you in getting the job at Mindtree?
I scored well in AMCAT and after got interview calls from HCL, Mphasis and Mindtree. I went for Mindtree's interview, liked the job profile a lot, cleared all the rounds and got the job offer. As I mentioned above AMCAT helped me a lot in every possible way to start my career in a great way.
Q: Would you suggest other job seekers to take AMCAT? If yes, why
Yes definitely. AMCAT has a huge database of companies (Start-ups and MNC's). It helps the freshers climb the first step which is the most difficult part of the job search journey.
Q: Would you like to share some tips which can help other job seekers in getting a good job?

Don't stop fighting until you get what you dreamt of. Nothing is impossible, the only thing that you have to do is TRY!
Want to kickstart your career in a right way? Take the AMCAT test and get a step closer to your dream job!