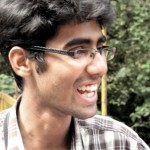 "AMCAT helped me get my first interview opportunity and the first job offer."
R Ashwin, Bangalore Technological Institute, 2015 Batch
Aspiring Minds: Tell us something about yourself and your career goals.
Ashwin: My name is Ashwin Rao. I am an engineering student and always wanted to opt for a career in the software field. My goal is to become a CTO of a reputed company.
Aspiring Minds: What difficulties did you face while searching for a job and how did you overcome those difficulties?
Ashwin: I always heard about students getting job offers before graduating and used to think that those guys have more exposure and had an unfair advantage over me. I had to sit at my computer for hours going through job sites looking for the right opportunities. Most of the time, I would come up dry.
Then I heard about AMCAT and how it would essentially level the playing field when it came to students searching for jobs and I would also receive alerts if I was shortlisted for a job opportunity based on my score.
Aspiring Minds: Tell us about your experience post giving the AMCAT test and how AMCAT helped you in getting the job at Aricent?
Ashwin: AMCAT is a really great assessment to test student's employability. It tests a student's knowledge of his/her chosen field. The questions are relevant and interesting. After getting my AMCAT score I started applying for jobs. I applied to Aricent as well.
Based on my score, I got shortlisted for an interview with Aricent. A big thanks to AMCAT as it was my first interview and I got hired because of AMCAT.
Aspiring Minds: Would you suggest other job seekers to take AMCAT? If yes, why?
Ashwin: AMCAT doesn't just give you a score but a comprehensive result of everything right from your aptitude to your personality. You can focus on your areas of strength and improve in the areas where you haven't scored well. By the time you actually go for an interview, you can become a well-rounded candidate that the company would like to have.
Aspiring Minds: Would you like to share some tips which can help other job seekers in getting a good job?
Ashwin: Stick to your basics. Most companies hire candidates that have good basics like aptitude, logical problem solving and verbal ability. So make sure you've got your basics right.