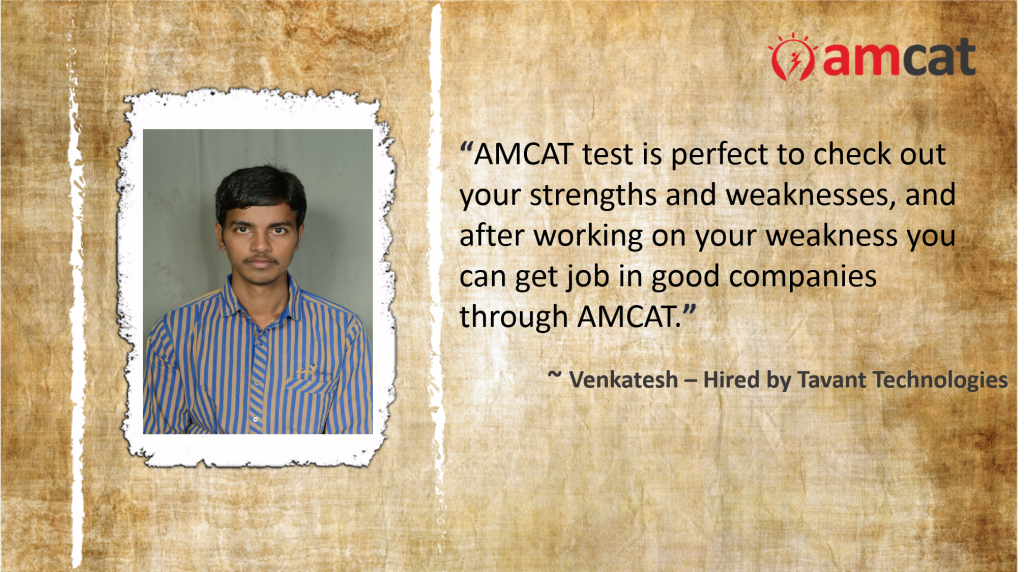 Isn't it tough to get a fresher job in a good company with the right job profile at the beginning of your career?
Meet Venkatesh Maddireddy, a fresher from Audisankara College of Engineering & Technology and know how he managed to kick-start his career in the IT industry and nab an opening with Tavant Technology.
Q: Tell us something about yourself and your career goals.
Hi, My name is Venkatesh. I belong to Andhra Pradesh and my goal is to work with a company where I can enhance my skills and knowledge. I want to work hard and reach the top managerial position in the company.
Q: What difficulties did you face while searching for a job and how did you overcome those difficulties?
Honestly, I didn't find right opportunity until I took AMCAT Test. I was not getting the perfect opportunity to start my career. There were interview calls but none of them were up to the mark. This was really depressing time for me. AMCAT really helped me out in this difficult time.
Q: How long did it take to get your 1st interview call after AMCAT?
I started receiving interview calls just after 10 days of the result.
Q: Tell us about your experience post giving the AMCAT test and how AMCAT helped you in getting the job at Tavant Technology?
AMCAT test is perfect to check out your strengths and weaknesses, and after working on your weakness you can get job in good companies through AMCAT.
Q: How many interview calls did you get after taking the AMCAT?
Every fresher looking out for their first gig must take AMCAT. AMCAT offers you a platform which provides you a channel for umpteen number of job opportunities. I got many interview calls after taking the AMCAT test.
Q: Would you suggest other job seekers to take AMCAT? If yes, why.
Absolutely. As I mentioned above AMCAT is the best platform for freshers. I would also like to add that the earlier you take the AMCAT test, the better it is. So, try not to waste time and make use of this wonderful opportunity.
Q: Would you like to share some tips which can help other job seekers in getting a good job?
Just be confident and don't lose hope. Focus on your core and communication skills. All the best. 🙂
Want to kickstart to your career in a right way? Take AMCAT and get a step closer to your dream job!