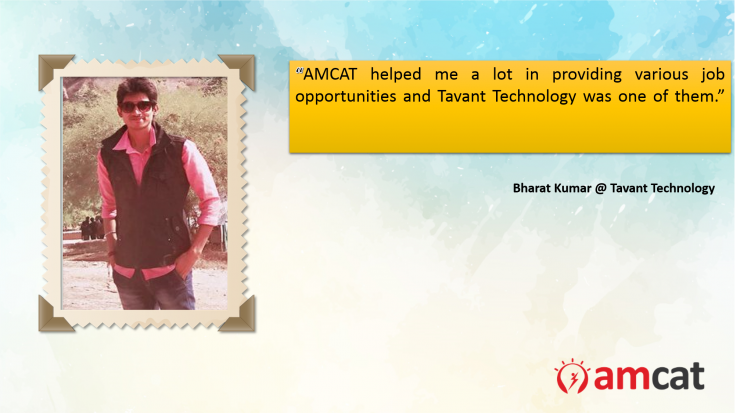 Isn't it tough to get a fresher job in a good company with the right job profile at the beginning of your career?
Meet Bharat Kumar, a fresher from Annamacharya Institute of Technology & Sciences and know how he managed to kick-start his career in the IT industry and nab an opening with Tavant Technology.
Q: Tell us something about yourself and your career goals.
Hi, my name is Bharat. I want to be associated with a leading software development firm and dedicate myself to the development of the organization. I am very keen to learn new technologies and grow as the firm grows.
Q: What difficulties did you face while searching for a job and how did you overcome those difficulties?
I did not face many difficulties as I took AMCAT at the right time. Thanks team AMCAT.
Q: How long did it take to get your 1st interview call after AMCAT?
Around 6 months.

Q: Tell us about your experience post giving the AMCAT test and how AMCAT helped you in getting the job at Tavant Technology?
AMCAT is the best platform for the freshers as it bridges the gap between the job seekers and recruiters which are otherwise quite difficult. AMCAT helped me a lot in providing various job opportunities and Tavant Technology was one of them.
Q: How many interview calls did you get after taking the AMCAT?

Approximate 9 to 10 calls.
Q: Would you suggest other job seekers to take AMCAT? If yes, why.
Absolutely. It is the best place for seeking the right job at right time. Their feedback report is amazing. You learn about your strengths and weaknesses. Your confidence boosts up a lot after taking AMCAT.
Q: Would you like to share some tips which can help other job seekers in getting a good job?
Give the interview with full confidence. Be prepared and you will rock it. All the best.
Want to kickstart your career in a right way? Take AMCAT and get a step closer to your dream job!