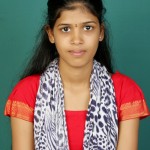 "I did not face any difficulty in finding a job as I got selected in Mindtree through AMCAT"
Swetha
Raghu Engineering College (REC) 2016 Batch
Aspiring Minds: Tell us something about yourself and your career goals.

Swetha: My name is Swetha. I am pursing B.Tech in Computer science and want to excel in my technical skills to be able to contribute to the success of the organization.
Aspiring Minds: What difficulties did you face while searching for a job and how did you overcome those difficulties?
Swetha: I did not face any difficulty as I got selected in Mindtree through AMCAT without interviewing for too many jobs.
Aspiring Minds: Tell us about your experience post giving the AMCAT test and how AMCAT helped you in getting the job at Mindtree?
Swetha: The AMCAT test was very useful. Without AMCAT, I would have not been able to access and get the opportunity to work with Mindtree.

Aspiring Minds: Would you suggest other job seekers to take AMCAT? If yes, why
Swetha: Yes, I have already advised many of my friends to take the AMCAT test because it is a great platform which gives you access to many good career opportunities.
Aspiring Minds: Would you like to share some tips which can help other job seekers in getting a good job?

Swetha: Take AMCAT and start preparing for your technical skills. Only aptitude and logical skills will not be sufficient for getting a job in today's job scenario.