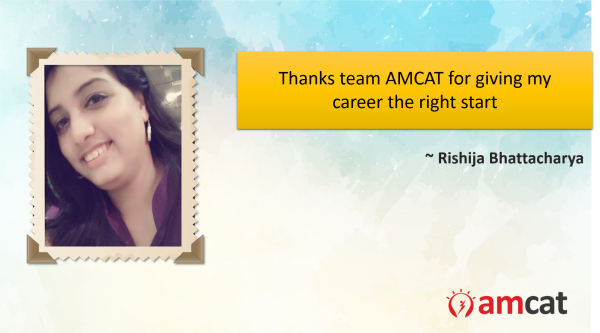 A good fresher job in a top-notch MNC right at the start of your career. Isn't that every fresher's dream?
Meet Rishija and know how a fresher from Dr. Sudhir Chandra Sur Degree Engineering College managed to kick-start her career in the IT industry and nab an opening with Accenture.
Q: Tell us something about yourself and your career goals.
Rishija: Hello, My name is Rishija Bhattacharya. I have done B.Tech in Electrical Engineering. My career goal is to get a job in a reputed company where I can learn new skills and enhance my strengths.
Q: What difficulties did you face while searching for a job and how did you overcome those difficulties?
Rishija: Competition is sky high in Kolkata as the number of companies that come for the campus interviews are lesser as compared to Bangalore and Delhi. I studied and practiced the core and communication skills really hard. Also, AMCAT was of great help in connecting with the companies (MNC's and start-ups).
Q: How long did it take to get your 1st interview call after AMCAT?
Rishija: I was in my final year when I got my first interview call. That would be approximately 3 months after taking AMCAT.

Q: Tell us about your experience post giving the AMCAT test and how AMCAT helped you in getting the job at Accenture?
Rishija: AMCAT is an adaptive test. Questions are  not very   tough but  you have  to complete  it within a time frame. You need to be smart and quick. Good  score in  AMCAT  means your future is secured with a top notch MNC. All the freshers out there, Go for it!
Q: How many interview calls did you get after taking the AMCAT?

Rishija: Accenture was my first interview call and I converted it. Thanks team AMCAT for giving my career the right start.
Q: Would you suggest other job seekers to take AMCAT? If yes, why.
Rishija: Obviously. This is the only trusted platform in India from where freshers can get a step closer to their dream job.
Q: Would you like to share some tips which can help other job seekers in getting a good job?
Rishija: Have a thorough knowledge of your core subjects. Practice and study hard. Most importantly be confident and focused in your interview. All the best guys!
Are you AMCAT assessed as well? Then, share your story with us, If not, come self-aware now.