AMCAT Exam has inevitably leveraged many students' job search from scratch till the end. We are experiencing the snowballing effect of the COVID 19 pandemic currently. Many reports suggest that it is intensifying the uncertainty around the job and related issues. Henceforth, leaving many aspirants clueless. Therefore, taking employability assistance can ease out the excessive burden of one's short-sightedness.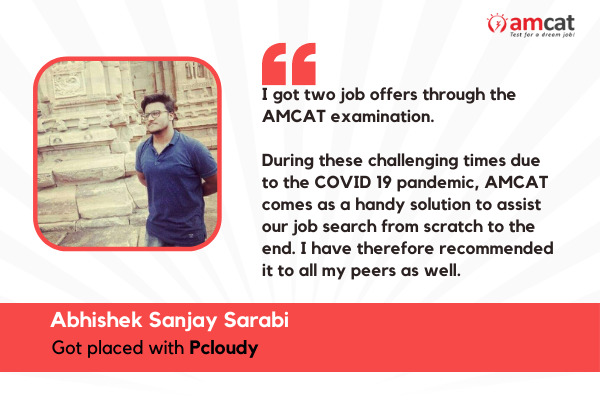 Through these tests, you can connect with potential recruiters based on your competence. This otherwise would take mammoth-like efforts. Also, high chances would be that the transparency is compromised.
Therefore, presenting you with the success story of Abhishek Sanjay Sarabi, a Computer Science Engineering student. He is presently in his final year.
He made it to his dream job through the AMCAT examination. As he walked us through his journey so far, we feel positive that his story will help you in actualising your dreams too.
Abhishek points out, one can be prepared for a job in just a week with AMCAT assistance. He ended up getting two job offers. Let's find out how. Scroll down below.
Why did you opt for the AMCAT exam?
Abhishek discovered the AMCAT test through various videos on social media and emails.
His curiosity of how this exam assists students in getting holistic working opportunities backed up with a good salary package led him to press the "Register" button to apply for the same.
On earning multiple job offers in a short span, he expressed how this employability exam lived up to its words with concrete actions throughout the job selection process. 
We understand how crucial it is for the aspirants not only to get a job but also to receive what they are looking for in their search:-
i. a good package which they deserve and
ii. the role which fits their competence.
Therefore, AMCAT strives to offer the best opportunities based on your performance.
Book your AMCAT Slot Now: Click Here
Did you face any challenge during this process?
Like any other aspirants, Abhishek too had his inhibitions. He shared how he overcame his doubts by employing pragmatic strategies.
While looking for jobs, Abhishek quoted," I easily cracked the Aptitude and Technical round." After all, coding and other technical skills are his prime forte.
However, he often stumbled during the HR round. Therefore, he incorporated few changes which eventually helped him overcome this nervousness as well.
He did the following activities:-
i. Thoroughly read short stories of the toppers,
ii. Watched video clips of those cracked the job interviews,
iii. Read the related article to gain deeper insights into commonly asked questions and similar blogs.
Tell us about the job you got through the AMCAT exam.
In his 8th semester, Abhishek already had two offers in his hands. How? He took the right steps at the right time. He applied for the AMCAT examination. Afterwards, prepared well for the test and worked upon his weaknesses. With all his consistent efforts, he got two offers within no time.
Presently he has got placed with Pcloudy with a package of CTC- 4LPA. He had also received one more job offer from Senseforth parallelly.
However, Pcloudy was his final decision as it matched his job and salary expectations.
Register for AMCAT Exam Here: Click Here
AMCAT Feedback Report
Specializing in computer science, Abhishek appreciated how the AMCAT report helped him gaining deeper clarity not only in technical subjects but also in aptitude and other domains.
Overall, he commends the supportive ecosystem of the test which helped him identify small details that were hindering his growth.
Would you recommend AMCAT to others, especially?- Let's find what Abhishek has to say.
Being one step ahead he said, " I have already recommended AMCAT examination to my peer. I have also guided them on how to apply for it."
With sporting shot assertiveness, he highlighted how AMCAT engages in a flexible approach as every company in the market beholds varying demands altogether. While some look for technical competence, others are more inclined towards non-technical skills and soft skills. In fact, some, look for both the elements in a candidate.
In this way, he told," Some companies opt for aptitude tests followed by technical round. However, some companies directly take you to the technical round and HR round. Therefore, Seeing such a diverse demand, the AMCAT exam is the most reliable place to go for."
Register for AMCAT Exam Here: Click Here
AMCAT- powerful assistance during COVID 19 pandemic? 
 "During these challenging times due to the COVID 19 pandemic, AMCAT offers a handy solution to assist our job search. It provides all the assistance in one place."- Said Abhishek
He highly recommends it to his peers who are running here and there to find some respite in their job search. 
He continued by emphasizing the easy registration process of the test. Highlighting, "Within a week you can get prepared for a job in the desired company."
Since the journey for everyone is different. Therefore, it is interesting to note that AMCAT gives one year window to the test takers to back their job search.
Indeed, Abhishek's was a truly inspirational journey. We wish him all the success in future.
All the best
Get in touch