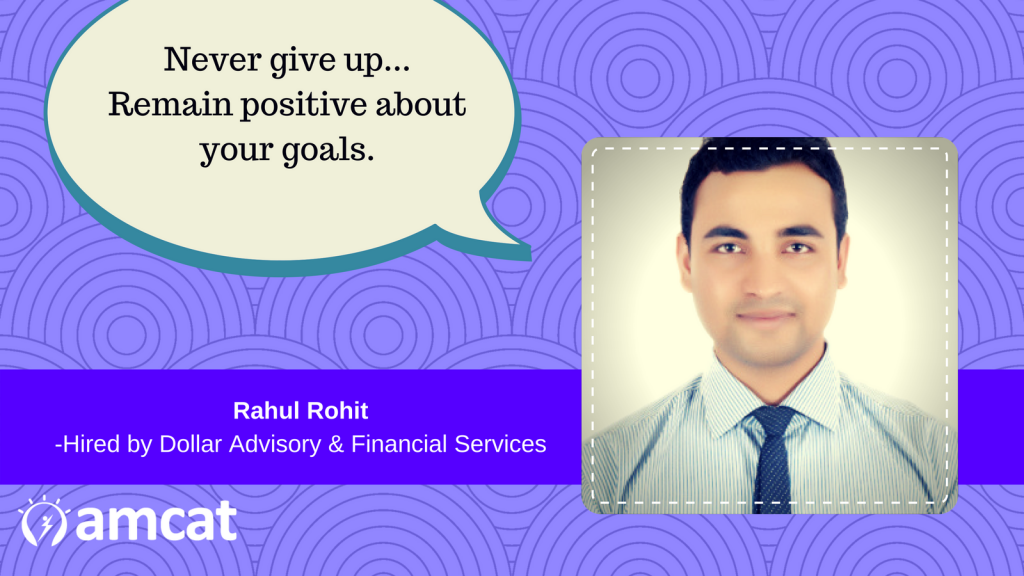 The AMCAT test is usually tied to Engineering jobs, or fresher jobs in cities like New Delhi, Bangalore and Hyderabad. However, few know that the AMCAT test helps graduates from other cities find their dream fresher jobs. This story is how the test helped someone with jobs in Bhopal.
This is Rahul's story.
Meet Rahul Rohit:
Rahul, a 2017 engineering graduate from Nagpur calls himself an acute learner, who looks at a corporate career as a ladder to a respectable position in society. Lofty ambitions aside, this easy-going fresher spends his life with swimming, chess, cricket and writing the occasional article.
So, after he completed his engineering at the Priyadarshini Bhagwati College in Nagpur, he knew what he had to do.
The AMCAT Test Experience
"The AMCAT Test is a name known for shaping student careers. I took the test as it helps provide several job opportunities – being a wide platform for your career", said Rohit.
And how was the overall test experience?
"The experience was superb. We had AMCAT representatives on the spot to make the test experience a smooth one and ensure that one would not find any kind of problem during the test", he said.
He did not have to wait for the interview to come his way. "I got my first call within the first week after taking the AMCAT test. Still, I'm getting so many calls for interviews."
The job interview, in particular, was for one of the many opportunities that came from our bundle of jobs in Bhopal. He had received a call for a business analyst position with Dollar Advisory and Financial Services in the city. He took it.
How was the interview process at Dollar Advisory and Financial Services?
"The interview process was smooth. They checked my potential, stress bearing capacity. I have no words to describe the support given by my family, without them it is not possible.
Would you recommend the AMCAT to others? 
"Yes, I'll definitely recommend AMCAT to others. "
Rahul went a step ahead, talking about the traits and tips to consider nailing your fresher job. "Be self-motivated. Never give up. Follow your parents and teachers guidelines. And always, remain positive about your goals."
If you liked this story about using the AMCAT test to gain jobs in Bhopal, then stay on and read more AMCAT testimonials in our blog section. You could also consider building up on your employability traits, as well as a skill assessment test, like the AMCAT test.