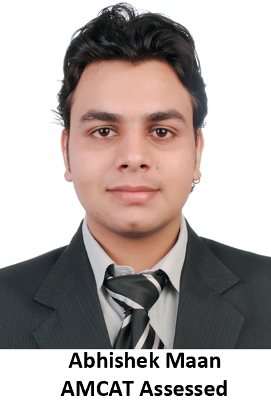 Aspiring Minds: Tell us something about yourself and your career goals.
Abhishek: My name is Abhishek and I have completed my Information Technology Engineering from Dronacharya College of Engineering, Gurgaon in the year 2012. My interests are travelling and exploring new places and I like playing basketball as well.
Aspiring Minds: What difficulties did you faced while searching for a job and how did you overcame those difficulties?
Abhishek: During my job search, I applied for different positions in various companies through their Career/Job portals but very few reverted back. Post that I started going for walk-in interviews but found that there was big crowd of job seekers already present outside the walk-in venue. To overcome this I gave AMCAT exam which helped companies to get to me, to attend their recruitment drive with other few job seekers who were also selected based on their AMCAT scores.
Aspiring Minds: Tell us about your experience post giving the AMCAT test and how AMCAT helped you in getting the job at HCL-ISD
Abhishek: After giving AMCAT, I started receiving interview calls from plenty of companies based on my AMCAT score, including the interview call from HCL Technologies-ISD; I gave the interview and got selected. AMCAT really helped me in getting this job, as it made me a preferred choice for HCL over many job seekers due to my good AMCAT score, who did not get a chance to even appear for the HCL's recruitment process.
Aspiring Minds: Would you suggest other job seekers to take AMCAT? If yes, why
Abhishek: Yes, Definitely I'll suggest all job seekers to take AMCAT exam as it will help you to appear for recruitment drives of various companies who otherwise hire fresher's through campus recruitment/placement only. It's like a backdoor entry to appear for interview of good companies. So, I highly recommended students as well as job seekers to take AMCAT exam.
Aspiring Minds: Would you like to share some tips which can help other job seekers in getting a good job?
Abhishek: I would suggest people to study hard and smart if you wish to take AMCAT exam. Also go practicing sample question papers for AMCAT which are easily available online. If you get a good score then you will definitely land up with a decent job opportunity.
Abhishek Maan
Dronacharya College of Engineering, Gurgaon, 2012 batch
Hired by HCL-ISD