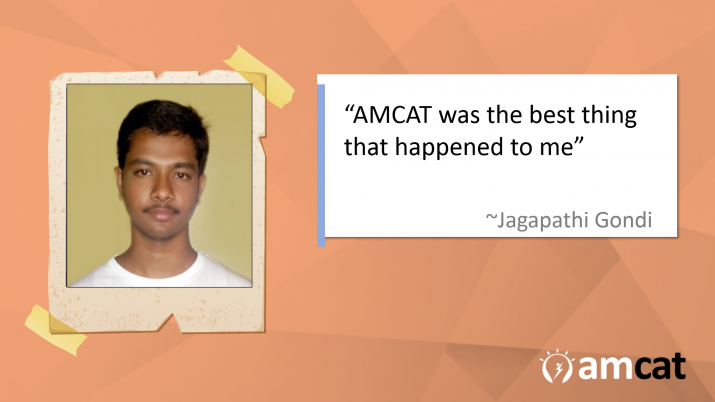 Isn't it tough to get a fresher job in a good company with the right job profile at the beginning of your career?
Meet Jagapathi Gondi from Sreenivasa Institute of Technology and Management Studies and know how he managed to kick-start his career in the IT industry and nab an opening with Appmaxter Software Solutions.
Q: Tell us something about yourself and your career goals.
Hi, My name is Jagapathi. I love programming and have successfully done some good projects in Android. My dream is to work as an Android Developer in a reputed organisation.
Q: What difficulties did you face while searching for a job and how did you overcome those difficulties?
After completing my graduation, I shifted to Bangalore. For the first two months I got fake calls from consultancies and other job agencies. Nothing great was happening. So my friend suggested me to take AMCAT. I took AMCAT and after getting the result, I started applying to jobs through AMCAT as my score was good. AMCAT was the best thing that happened to me.
Q: How long did it take to get your 1st interview call after AMCAT?
Within 10 days I got 1st interview call from AMCAT.
Q: Tell us about your experience post giving the AMCAT test and how AMCAT helped you in getting the job at Appmaxter Software Solutions?
I really thank AMCAT for helping me get the right job to start my career with. AMCAT helped me so much and made my professional life really easy.
Q: How many interview calls did you get after taking the AMCAT?

I got 20+ calls with 5 calls avg per month. This was when my score was somewhat poor in 2 sections.
Q: Would you suggest other job seekers to take AMCAT? If yes, why.
Yes, I strongly suggest job seekers to take AMCAT. As in this competitive world, we need something that can give us a platform to showcase our talent to the companies.
Q: Would you like to share some tips which can help other job seekers in getting a good job?
I would suggest other job seekers to take AMCAT and aim for your dream job.
Want to kickstart your career in a right way? Take AMCAT and get a step closer to your dream job!