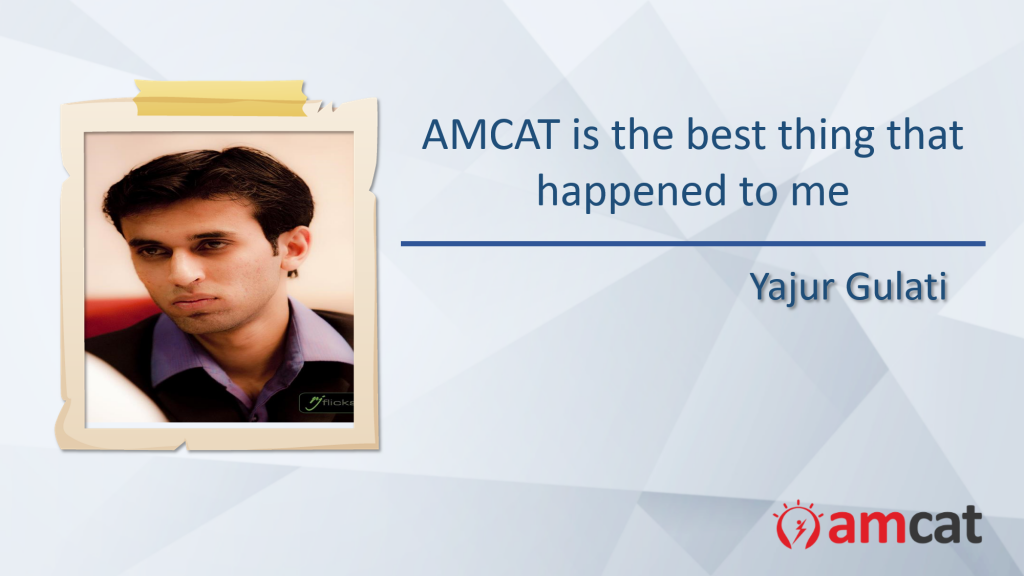 Meet Yajur, a fresh graduate from Ajay Kumar Garg Engineering College and know how he managed to kick-start his career straight out of college just by giving AMCAT.
Q: Tell us something about yourself and your career goals.
My name is Yajur Gulati and I have done B.Tech in IT from AKGEC Ghaziabad. My career goal is to work at a position where I can use my analytical skills for the betterment of the company.
Q: What difficulties did you face while searching for a job and how did you overcome those difficulties?
The biggest difficulty was to cope up with the competitive exams along with the placement process. It was very difficult to give time to both. Hence, I tried for off-campus opportunities through AMCAT.
Q: How long did it take to get your 1st interview call after AMCAT?
Around 15 Days

Q: Tell us about your experience post giving the AMCAT test and how AMCAT helped you in getting the job at Just Dakhila?
AMCAT process was smooth and I started getting a lot of job opportunities because of the AMCAT. Thanks to the AMCAT, I got a job at Just Dakhila. AMCAT is the best thing that happened to me.
Q: How many interview calls did you get after taking the AMCAT?

Around 8 to 10
Q: Would you suggest other job seekers to take AMCAT? If yes, why.
Yes, because there are multiple opportunities for everyone and the best part- it offers you to choose the  job role that suits you.
Q: Would you like to share some tips which can help other job seekers in getting a good job?
Work on your core skills and improve your communication skills as much as possible.
Does your college hold AMCAT test? If not, you can always do one online and get a step closer to your dream job.