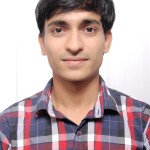 "AMCAT is the best platform for both job seekers and employers for a quality-oriented career journey."
Gulshan Savanth, Aditya Engineering College (2016 Batch)
Aspiring Minds: Tell us something about yourself and your career goals.
Gulshan: Hi, my name is Gulshan Savanth and I'm from Rajahmundry, Andhra Pradesh. My aim in life is to become a successful Engineer in Computer Science.
Aspiring Minds: What difficulties did you face while searching for a job and how did you overcome those difficulties?
Gulshan: Pressure was a key hurdle in my job search. AMCAT helped me a lot to overcome the difficulties I faced during this time and eased the process.
Aspiring Minds: Tell us about your experience post giving the AMCAT test and how AMCAT helped you in getting the job at Mindtree?
Gulshan: I was confident about my AMCAT result and AMCAT was my first stepping stone to success. I got an offer from Mindtree and bagged my first job.

Aspiring Minds: Would you suggest other job seekers to take AMCAT? If yes, why
Gulshan: Yes, I would definitely recommend every job seeker to take AMCAT as it is the best platform for both job seekers and employers for a quality-oriented career journey.
Aspiring Minds: Would you like to share some tips which can help other job seekers in getting a good job?

Gulshan: Be confident about what you have learnt and have faith in yourself. You should face every critical task with confidence.