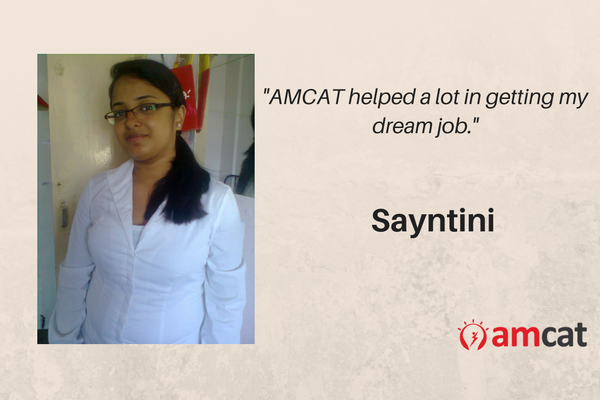 Meet Sayantini Biswas, a fresh graduate from Institute of Technology and Marine Engineering and know how she managed to kick-start her career straight out of college just by giving AMCAT.
Q: Tell us something about yourself and your career goals.
Hi, my name is Sayantini and I am from Kolkata. I am a simple girl with high ambitions. My goal is to reach the top with hard work and dedication.
Q: What difficulties did you face while searching for a job and how did you overcome those difficulties?
I didn't face a lot of difficulties in getting a job as compared to other candidates but yes, it became a little depressing on facing a lot of rejections. I actually took it in a constructive way to nurture myself and move a step ahead to perfection.
Q: Tell us about your experience post giving the AMCAT test and how AMCAT helped you in getting the job at Accenture?
I am very grateful to AMCAT in giving me my dream job. Working with Accenture is like a dream come true. After taking the AMCAT, I really liked the result report, it really helped me in improving myself. AMCAT team is prompt enough to answer my queries and the notification system is really cool as they send you an email as well as a text message to your RMN. There is no chance I could have missed my interview.
Q: How many interview calls did you get after taking the AMCAT?
Around 7 or 8. 
Q: Would you suggest other job-seekers to take AMCAT? If yes, why.
Surely yes, AMCAT is a must take.
Q: Would you like to share some tips which can help other job seekers in getting a good job?
Goal settlement, one can't jump from one boat to another all the time. Have confidence in your qualities and it will definitely help you to achieve success.
Enthused by Sayntini's success? She is not the only one, read more of our success stories and know how AMCAT brought them a step closer to their dream job.